Accent ZIP Password Recovery is the professional tool for recovering lost passwords to ZIP archives.
Price $40
.
Today It's FREE
NOTE: Accent ZIP Password Recovery 4.70 Basic is available as a
Giveaway of the day
! You can only download and install it within October 22, 2014.
Never miss a cool giveaway, Subscribe us by email now
Really quick search of lost Zip/WinZip passwords (.zip and .zipx files). Supports various types of encryption: ZIP/Classic and WinZip AES. Striking code optimization for Intel and AMD processors. Uses GPU computing – works applying AMD and NVIDIA video cards. The rate of searching is dozens times higher!
Easy-to-use for novice users – there is an automatic searching according to preset scenarios. Has different options for professionals.
The best improvement idea will be rewarded with Accent PDF Password Recovery.
DOWNLOAD FREE and Get Free licensed now!
►
Download Accent ZIP Password Recovery 4.70 Basic now
Unzip the package of "Accent ZIP Password Recovery 4.70 Basic" you've downloaded, and carefully read the instructions for get Serialnumber or License included.
PLEASE NOTE: Accent ZIP Password Recovery 4.70 Basic is only available to FREE download and install within October 22, 2014.

Did You miss this? Don't worry. You may find the best discount (up to 90%) from Coupons.ivoicesoft.com. Click it then type to search what you want.

Never miss a cool giveaway, subscribe us by email now.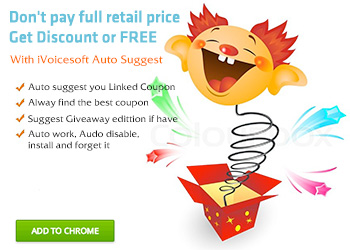 Comment:
This is the BASIC version of the software and does not support GPU, even though the product description on GAOTD says that it does.
Misleading and deceptive.

Comment by eyewerks — October 22nd, 2014 at 3:30 am Did you find this comment useful? yes | no (+9)
Installed and registered with problems (turns to unregistered after successful activation, finally way activated) on a Win 8.1.2 Pro 64 bit system.

A company without name and address: Passcovery Co. Ltd. released its first high-speed, professional software solutions for recovering lost passwords in 1999. Today, the company's software is successfully used by law enforcement, government agencies, corporations and private individuals around the world.

Hmm, what should I say?

A small resizable window opens, you select your .ZIP file (recognizes only ZIP) and start cracking…

And now comes the nice thing: the program tells you (in my case), that it would need an "estimated time" to crack the password of 1:27 h:m. That's good. It is the first time in my life that a password cracker gives me an estimated time. I would have expected something like 1.3 billion years or 800.000 years if you use parallel computing with a 1.000 PC cluster or something like this.

It tells me after opening a file, that the maximum supported password length is 63 (roughly estimated: more passwords than molecules in the universe…)

Brute force or mask supported brute force does not make sense on longer passwords.

The only method with a certain chance really to crack a password is the "dictionary" attack. But this program does not deliver large dictionaries, nor gives it links or hints where to download the big ones.

In my test case the password cracking speed is about 100.000 passwords per second. No, it will not finish in about hour. Or maybe yes? Finishing and telling me, that I need more time.

No, the program is fair, really! It tells me that a key with 12 digits, only Latin small&big characters will need roughly about 131 million years, days not counted, with a cracking speed of 100.000 per second. Increasing this speed by 1000 would reduce the time to some lousy hundredthousand years… : It is not only the time needed, thing of your energy bill 1 million years later. Incredible!

Use it, if you play lotto. If you don't play lotto, than you know, that you will not crack anything but Mom, Dad, Sweetie, Test or Master.

Uninstalled via reboot.

Comment by Karl — October 22nd, 2014 at 3:46 am Did you find this comment useful? yes | no (+5)
Recommended titles
Passcovery Suite
Ultra-fast GPU password recovery tool for various formats. Recovers passwords for Microsoft Office/OpenOffice/PDF/Rar/Zip/iPhone/iPad/BlackBerry/TrueCrypt/WPA/WPA2. Demonstrates top speed on any CPU's and AMD/NVIDIA video cards. Offers unique configuration options for minimal recovery time. Passcovery Suite has unique features for everyone and is the best choice for novices and professionals alike.
Accent OFFICE Password Recovery
An amazing solution to the problem of lost Microsoft Office / OpenOffice passwords is right here: Accent OFFICE Password Recovery. The program works with all versions of Mirosoft Office (95-2013) and OpenOffice. It knows most types of protection for these documents. It uses AMD and NVIDIA video cards to break Office 2007/2010/2013 and OpenOffice passwords. It makes password search up to 60 times faster.
Accent PDF Password Recovery
Professional tool for high-speed recovery Document Open Password and instant removing of Permissions Password for Adobe PDF files. Accent PDF Password Recovery works just as well with files created in Adobe Acrobat 2-XI.
Accent RAR Password Recovery
Probably the best recovery of RAR/WinRar passwords. We offer you a high-speed password search on Intel/AMD CPUs and GPU acceleration. Supports GPU computing on AMD and NVIDIA video cards. Offers effective features.