It is time to protect your privacy and files with Privacy Optimizer!
Price $39.90
.
Today It's FREE
NOTE: Privacy Optimizer 1.1 is available as a
Giveaway of the day
! You can only download and install it within October 24, 2014.
Never miss a cool giveaway, Subscribe us by email now
This powerful tool suite will allow you to change your System default privacy settings, and allows you to easily and quickly hide your IP via the integrated proxy manager. Privacy Optimizer also includes a free privacy optimized web browser that more readily fulfils the need to be anonymous in both situations.
With Privacy Optimizer, you can successfully protect your passwords and credit card data from keyloggers, spies, and hackers. Furthermore, there is a secure file deleter and folder protector included in the tool suite. Further, Privacy Optimizer allows you to share your experience about bad behaving or spying websites with known privacy issues, web browsers, and software applications.
DOWNLOAD FREE and Get Free licensed now!
►
Download Privacy Optimizer 1.1 now
Unzip the package of "Privacy Optimizer 1.1" you've downloaded, and carefully read the instructions for get Serialnumber or License included.
PLEASE NOTE: Privacy Optimizer 1.1 is only available to FREE download and install within October 24, 2014.

Did You miss this? Don't worry. You may find the best discount (up to 90%) from Coupons.ivoicesoft.com. Click it then type to search what you want.

Never miss a cool giveaway, subscribe us by email now.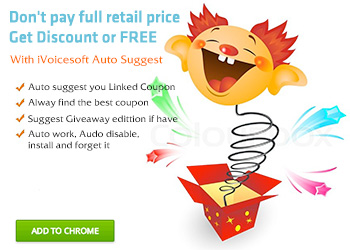 Comment:
Hello GAOTD Community!

Thank you for stopping by today to get the FULL version of Privacy Optimizer for free!

As always, we do appreciate any constructive critic, improvement idea and of course commendations!

Please note that Privacy Optimizer is version 1.1 so be gentle with your reviews, questions or any issues you might experience! We constantly try to improve all our software products and as already said we highly appreciate your valued opinion to do so!

Privacy Optimizer is a tool suite and might appear very complex to first time users! We strongly recommend to you to carefully read the FAQ and online documentation of Privacy Optimizer, before you actually run it on your computer!

As Privacy Optimizer is working in many field where privacy issues can happen, you will need to invest time to understand and learn how to use it on the best way, just like by any other professional software!

In case you are experimenting this software make sure to backup your files before you encrypt it. Save your important files to usb stick or an DVD.

WARNING: The encryption process could get interrupt.

REGISTRATION: If you experience issue during registration or the registration got interrupt, please try again with a "new" email address or contact our support.

Also we do encourage every user to participate in the Anti-Trust Database via rating websites, software and web browser to help all of us to make the Internet a more secure place! Please note that you will need an active internet connection in order to use the real-time protection & rating features as all definitions and databases are in the cloud!

Please also note that you will need to provide a valid e-mail address (throwaway or minutes mails wont work) in order to get Privacy Optimizer for free! The reasons why we ask you for your e-mail address are to stay in contact with you (only if you wish as you can always opt-out) and to secure our software from hackers or other hostile people. However, we wont spam your mail box and we would never sell or rent your e-mail address.

Should you experience any issues while activating Privacy Optimizer (caused by a possible downtime of the activation server), feel free to open a ticket on http://www.badosoft.com/support. Please note that due the high amount of tickets we receive daily, answers can take up to 72 hours. Please also note that we cannot answer to any individual questions!

Last and not least, Privacy Optimizer is a new software and anti-virus scanners, firewall or other security software applications might display a warning message or try to block a process. We always try to white-list our software products by the most popular security software developers, however false positives can happen. If you experience any issues, please contact the developer of your security software and/or report the false positive to them!

Here is a link to the latest VIRUSTOTAL scan:

https://www.virustotal.com/file/d3e68f43a52685c4e8b2723c371807d71d767bb66b45c52c8b35bbeac309a307/analysis/

Greetings and best regards!

Badosoft

Comment by Badosoft — October 24th, 2014 at 3:07 am Did you find this comment useful? yes | no (+8)
To register this program you will be asked for an email address during the installation. In my experience, many times an email does not always arrive immediately. It would be much better to have the key prior to the installation. I am not able to turn on my Wondershare Time Freeze at the moment but I may try it later. Thank you GOTD team and Badosoft.

Comment by dadams — October 24th, 2014 at 3:19 am Did you find this comment useful? yes | no (-2)
Installed the long way and registered without problems on a Win 8.1.2 Pro 64 bit system.

Only after receiving the key, the initial software downloads the installation files. You can add a beta software "Anonymous Browser" from Khrona LLC, Houston Texas.

A company without name and address:

Software and Hardware professionals from Austria and Croatia were occasionally working together on different projects and decided to invest their knowledge and experience in a Software development consortium called Badosoft.

Upon start a crowded dark and not resizable window opens. The start is not very good:

I wanted to test the "Anonymous Browser" – yes it' really beta…

http://www1.xup.to/exec/ximg.php?fid=18655306

The AnonymousBrowser.exe is from July 2013 and still beta???

With the next button you can change "Windows privacy" settings, than there is a file shredder and a folder protector, which I didn't test.
And you can be sure, that I will never test a credit card manager with real data from an unknown company. Never!

I uninstalled/installed this software again. The "Anonymous Browser" remained in the not working beta state.

Hide your IP more comfortably
Fix lag in online games
Stop unwanted disconnects
Create your own speed test server
Integrated privacy web browser In my case : Not working…

Uninstalled via reboot.

Comment by Karl — October 24th, 2014 at 3:26 am Did you find this comment useful? yes | no (-28)
Featured title:
Latency Optimizer
Latency Optimizer comes with a set of powerful optimization, testing, analyzing and cleaning tools to assist you to reduce high latency, fix lag, improve FPS, boost online games, applications and speed up Internet connection and PC! Latency Optimizer also includes a Performance Recorder, Speed Test, Ping Test, Packet Monitor and Latency Test. Those Tools will help to analyze the causes of lag, low ping, high latency and FPS drops in online games and application.
30% discount for GOTD Users