Pull your favorite photos together into gorgeous picture collages easily with AmoyShare Photo Collage Maker!
Price $29.95
.
Today It's FREE
NOTE: AmoyShare Photo Collage Maker 4.1.2 is available as a
Giveaway of the day
! You can only download and install it within November 21, 2014.
Never miss a cool giveaway, Subscribe us by email now
AmoyShare Photo Collage Maker is an excellent yet simple-to-use photos utility for Windows. No matter you plan to create poster, calendar, card or Facebook cover, it can quickly help you handle them. The photo utility offers hundreds of pre-made templates as different theme categories like calendar, collage, comic, disk cover, frame, etc.
Besides the templates, users also can customize the photo collages, we can add text, funny decorations, cool background. In a couple of minutes, we could make the amazing and personalized invitation card for the wedding, birthday party, Halloween party or gifts on special day.
DOWNLOAD FREE and Get Free licensed now!
►
Download AmoyShare Photo Collage Maker 4.1.2 now
Unzip the package of "AmoyShare Photo Collage Maker 4.1.2" you've downloaded, and carefully read the instructions for get Serialnumber or License included.
PLEASE NOTE: AmoyShare Photo Collage Maker 4.1.2 is only available to FREE download and install within November 21, 2014.
Did You miss this? Don't worry.
You may find the best discount (up to 90%) from Coupons.ivoicesoft.com
. Click it then type to search what you want.
Never miss a cool giveaway, subscribe us by email now.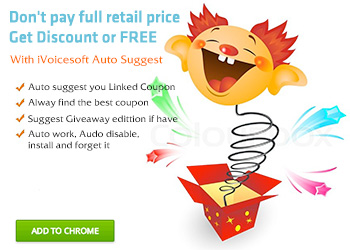 Comment:
Installed and registered without problems on a Win 8.1.2 Pro 64 bit system. The registration dialog comes after the first run.

A brandnew(?) or a new brand(?) company without name and address and the strong will to make life better:

Founded in 2014, AmoyShare is a company with creativity that dedicates to digital software, hardware products, and life services. It is constructed with young people with fresh ideas and strong willing to make life better. We believe our constant effort will bring our customers with countless happiness, convinces and surprise.

Instead of making life better, they should concentrate on working software, but no:
Our first product is Photo Collage Maker. It's our first step and we hope it could bring your life with beauty and welfare

This must be Chinese marketing! Happiness, welfare, beauty and the green dragon flies high…

And a laugh: Founded 2014 and "trusted by millions of users". The marketing department hits again.

Yes: Chinese the software is digitally signed Chengdu PearlMountain Technology Co., Ltd – and we had from this company CollageIt Pro 1.9.4 on June 12, 2014.

The program start is a wizard to select some presets. If you select a "blank" page, the resizable screen of the normal program appears. The program has a lot of templates, many in the "Chinese" style. The use of the program is simple and working. If you like to make photo collage, this is the right software. In my short test it has everything,, you'll need to make a quick collage of your favorite photos.

Does what it claims. But what a pity, it didn't make my life better, healthier, more rich and beauty is still missing at my age..

Uninstalled via reboot (.e.g. rebooted a virtual system to forget all changes. DeepFreeze, ToolwizTimeFreeze, Returnil…)

Comment by Karl — November 21st, 2014 at 3:22 am Did you find this comment useful? yes | no (+31) Reply
Nice Application. Templates are a bit outdatet, not to say, silly. But that is a matter of taste.

I think my children will like it. But your tip FAQ4 doesn't work. You can change the language from English to English, no other languages available, not even Chinese…

Comment by Software-Test — November 21st, 2014 at 4:11 am Did you find this comment useful? yes | no (+9) Reply
Thanks for the information re "uninstalled via reboot". I'll give one of them a try.

Comment by Maddy — November 21st, 2014 at 4:34 am Did you find this comment useful? yes | no (-1) Reply
No bad in my view…

Very easy to use since what you have to do is simply following the tutorial and the software does the job with no hassles.

Collage photos are with good quality and the huge selection of templates provided enables you to use the photo collage for many different purposes.

So give it 68% THUMBS DOWN is simply ridiculous, but I noticed that the USER RATING system is often related to what Karl says in his comment. So I suspect that many people here give any GAOTDs a THUMBS DOWN without even trying them, especially when KARL ends his comment saying "uninstall via reboot" (namely nearly always).

Karl's comments are good but KARL is not the POPE or GOD, as he's just an ordinary blogger as me and many others, so if he says "uninstalled via reboot" it doesn't mean that the program is bad.

Please at least try the software given away here before giving it a THUMBS DOWN without any reason, otherwise the risk is that any serious developer out there will ever release his flagships here in the future.

And if you don't need the kind of program offered, just skip voting it!

Comment by Andrea — November 21st, 2014 at 4:57 am Did you find this comment useful? yes | no (+6) Reply
I like the program. Everyone should take note that after the license code in successfully inserted, you need to close out of the program and restart it, or else there's a message telling you that you only have 15 days left to use it, on a trial basis.

Comment by moosish — November 21st, 2014 at 5:22 am Did you find this comment useful? yes | no (+4) Reply
The program needs about 110MB room on my HD. Of this, nearly 60MB are reusable pictures. It it not clear to me if I may use this pictures outside the giveaway in mails and documents. Please clarify.

Comment by gergn — November 21st, 2014 at 5:39 am Did you find this comment useful? yes | no (0) Reply
Featured title:
AmoyShare Photo Collage Maker for Mac
An easy and powerful photo collage maker on Mac platform, just in couple minutes, you can make the amazing wedding card, Halloween card, poster, calendar etc. AmoyShare Photo Collage Maker for Mac makes our entertainment life richer, better.
AmoyShare O2Tunes
A music/videos backup and transfer tool for iPhone, iPod, iPod. It can quickly import songs, videos to iTunes/iOS devices from computer, or backup purchased songs, movies to computer without iTunes.