Crave World Clock allows you to keep track of current time for major cities and time zones on a real world map.
Price $14.00
.
Today It's FREE
NOTE: Crave World Clock Pro 1.6.4 is available as a
Giveaway of the day
! You can only download and install it within November 16, 2014.
Never miss a cool giveaway, Subscribe us by email now
Crave World Clock allows you to keep track of current time for major cities and time zones on a real world map. You can also add themed analog and digital clocks on your Windows desktop to keep track of current time for any city you like.
You can also set the world clock with map as your desktop wallpaper or use it as a screensaver. A time finder tool allows you to quickly find current time for any city or country you like. A reminder tool allows you to set reminders for appointments, meetings, phone calls etc. according to other time zones. A popup will be displayed with a reminder message at the specified time in the specified city or time zone. It also has a calendar tool which displays calendar for entire year at a glance. You can choose the year for which the calendar needs to be displayed apart from current year. Crave World Clock also has a tool which displays international dial codes for all countries in a list which you can refer for your phone calls.
DOWNLOAD FREE and Get Free licensed now!
►
Download Crave World Clock Pro 1.6.4 now
Unzip the package of "Crave World Clock Pro 1.6.4" you've downloaded, and carefully read the instructions for get Serialnumber or License included.
PLEASE NOTE: Crave World Clock Pro 1.6.4 is only available to FREE download and install within November 16, 2014.
Did You miss this? Don't worry.
You may find the best discount (up to 90%) from Coupons.ivoicesoft.com
. Click it then type to search what you want.
Never miss a cool giveaway, subscribe us by email now.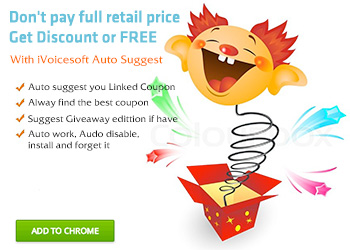 Comment:
I downloaded an earlier giveaway of this in September 2011 because I have friends and relatives all over the planet and working out when someone would be free to Skype (actually, it was MSN at the time) can be quite a nightmare…

The neatest feature of this software was allowing me to have a small, semi-transparent, customizable line of digital clocks with their time zones on my desktop allowing me to see the time in as many cities/zones as I needed.

I'd tried a few free alternatives and frankly none were as good as this so if you need a world time clock I would recommend this without hesitation: it does exactly what it says on the tin.

Also, as I think I mentioned in my comment at the time, any piece of software called "Crave clock" should be downloaded just for the unintentional comedy value…

Comment by Keya23 — November 16th, 2014 at 3:20 am Did you find this comment useful? yes | no (+4) Reply
Installed and registered without problems on a Win 8.1.2 Pro 64 bit system.

A company without name and address and a strong mission:

Mission

Our mission is to offer you high quality software applications and excellent customer service which you can leverage in making most out of your business.(*)

In some WebPage applications there must be a field: "Fill in your vision and your mission", with 10 pre-formulated texts about/mission/vision/customers/business…

This time something new, not really. It was GiveAway in 2010, 2011 and now.

Here are the old reviews:
http://www.giveawayoftheday.com/crave-world-clock-pro/

Again a "Pro" version and not these lousy "Amateur" versions.

After start a resizable world map opens with night&day zone and a a "twilight" zone, which is simply plain wrong. Dear programmer, the twilight zone differs from equator region to the pole regions.

And a second remark to the day&night world. There are better images with a higher resolution in the WEB, take different maps for different resolutions. Take a winter/spring/summer/autumn map. There is a lot to improve. And give the user the chance to hide the the menu bar and the title bar…

This program uses the system time, you cannot define another time server.

To this map you can add analog or digital clocks (in my eyes a bad layout of the clocks, which are not resizable), you can see a calender, but not choose the the begin of the week Sunday/Monday.

A simple world map, with a lot of possible improvements, graphically not the best. In my case the system freezes, when I want to install this worldmap as wallpaper.

(*)mission not accomplished, this is no "high quality".

Uninstalled via reboot.

Comment by Karl — November 16th, 2014 at 3:33 am Did you find this comment useful? yes | no (+24) Reply
I had version 1.6 from an earlier giveaway. I choose to install this into the same folder. It installed with no problems. The program is a world clock. It's not something I use everyday but it's nice. It's set up to start with your computer when you turn it on so you will want to turn that off if you don't want it to run all the time.

You can read a review from Ashraf on an earlier version here..

file:///C:/Program%20Files/CraveWorldClock10/ashraf.htm

Here are some screen shots…

http://www.craveworldclock.com/visual-tour.html

Thank you GOTD team and Reflection Software Solutions.

Comment by dadams — November 16th, 2014 at 3:54 am Did you find this comment useful? yes | no (0) Reply
Featured titles:
Crave Invoice Pro
Crave Invoice is an easy to use invoice making software for small to medium size business. It will help you to create tax invoice, quotations, sales orders, purchase orders for multiple companies. It is also possible for you to track customer payments received for invoices or payments received in advance. This invoice software will also help you to manage your customers, suppliers, and products database.