With Hide Folders you can easily protect any number of folders and files on your computer.
Price $39.95
.
Today It's FREE
NOTE: Hide Folders 2012 is available as a
Giveaway of the day
! You can only download and install it within November 6, 2014.
Never miss a cool giveaway, Subscribe us by email now
Hide Folders effectively protects your data by hiding and locking your secret files. It allows you to set different protection (hide, lock, read-only) for your files and folders and protect them with a password. The program comes with smooth graphical user interface with visual styles support and extremely easy in use.
You will get several ways to control the program – using program's control panel, Windows Explorer context menu, hotkeys, or even program command line parameters.
Special offer from FSPro Labs: you can get Hide Folders 5 single license and Hide Folders 5 family license with a big discount!
DOWNLOAD FREE and Get Free licensed now!
►
Download Hide Folders 2012 now
Unzip the package of "Hide Folders 2012" you've downloaded, and carefully read the instructions for get Serialnumber or License included.
PLEASE NOTE: Hide Folders 2012 is only available to FREE download and install within November 6, 2014.
Did You miss this? Don't worry.
You may find the best discount (up to 90%) from Coupons.ivoicesoft.com
. Click it then type to search what you want.
Never miss a cool giveaway, subscribe us by email now.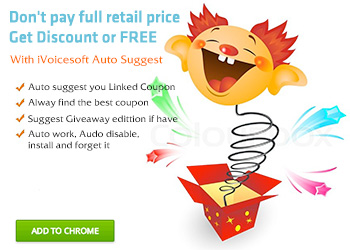 Comment:
Ok what happens if you install and hide folders on another HDD …Drive C crashes and you lose the program.You can't access the hidden folders without the program.Thank you I will give it a miss.
But you can change any folder attributes to HIDDEN???????

Comment by Roger — November 6th, 2014 at 3:22 am Did you find this comment useful? yes | no (+16)
Installed and registered on WIN7-64BIT without problems.

This program is effective to protect folders from being accessed by unauthorized persons. This tool is easy to use with clean interface. Everyone can pick it up with ease.

5 protection methods: Hide, Lock, Hide & Lock, Read only, No protection. Moreover, you can use hot keys, integrate Hide Folders into Windows Explorer context menu and cease to run Control Panel at all.

All in all, it works well during test.

OTHER ALTERNATIVES:
http://www.videoconverterfactory.com/document-manager/
http://www.cleanersoft.com/hidefolder/free_hide_folder.htm
http://www.newsoftwares.net/folderlock/

Comment by Beardxr — November 6th, 2014 at 3:27 am Did you find this comment useful? yes | no (+6)
I never really understood the value of these types of programs in non-business environment. They offer a single license and a family license. Let's take a look at that: A single license for one computer – Don't I accomplish the same thing by giving only myself administrator privileges? A family license for multiple computers – Why would you give the kids the ability to hide stuff from you? (the kids shouldn't have Admin rights anyway, IMHO) If you're trying to hide stuff from your wife, invest in some counseling instead of a software program. The only reason non-business people like these programs is the sense of power it gives them. This is an ego-stroking program. *NOTE* – I would hate to have folders locked out and not be able to access in the event of some system malfunction. *NOTE NOTE* – Take a look at the DOS command ATTRIB, which offers similar function and is included in windows.

Comment by George — November 6th, 2014 at 3:40 am Did you find this comment useful? yes | no (+2)
I'll keep this, although i use another program for this purpose and that is File Lock http://www.toplang.com/
It locks the file and once locked , what purpose for hiding it.

But todays program too fare well in this category. It can hide,lock and lock and hide or provide read only mode function. The GUI is decent.
But i would like to mention, once a user gives a password, for the program to start, it doesn't have an option to deactivate the password.
After the program is shut down, a file called hf.exe (C:\Program Files\Hide Folders 2012\hf.exe) keeps running in the background.
Disabling it from the Task Manager disables the hot key Ctrl+Alt+H.

It also creates a file fsproflt2.exe (C:\WINDOWS\system32\fsproflt2.exe)that starts the service and remains in the background consuming like 2 MB of memory which is not too much.

The program does , whats its made for, and thank you for this offer GAOTD. May be i'll use it some other time.

Comment by MaccuaToilet — November 6th, 2014 at 3:50 am Did you find this comment useful? yes | no (+3)
@Roger

If you only hide the folder then it can be easily recovered by another program ( You have to install Winutilities , in this proram under privacy and safety module one application named 'UNDELETE' can recover the folder and files which were hidden by any folderlocker programs. This undelete program is different from other file recovery software ). I have tested it. I am able to recover the folders and files locked by My Lockbox and Secure Folder. Anyone can test this.

But if you encrypt the files then you will need that program to unencrypt.

So it seems folder locker / hider is not a safe options. Instead of this if you use program like SafeHouse Explorer ( it will create seperate password protected volume / locker of required size ) it will be much safer. But you have to remember the password always.

Comment by Jahid — November 6th, 2014 at 4:17 am Did you find this comment useful? yes | no (+5)
#1 Roger.
After reading your excellent comment I decided to forego using this program, if data is important to you and you wish to hide it you should always make sure some form of retrieval is possible if things go wrong.
This company also sells "Hide Folder Ext" and if today's download and this were combined at least you would have some sense of security. At the price they are selling today's download I feel they should be one single program with options.
Thanks but no thanks!

Comment by XP-Man — November 6th, 2014 at 4:23 am Did you find this comment useful? yes | no (+2)
#6
@XP-Man

yes, Retrieval is possible by some other form. You can test as I have already shared the process of recovery of the files under the hidden or locked folder.
But you know if you encrypt the data it can be only unencrypted by the parent program.

Comment by Jahid — November 6th, 2014 at 4:58 am Did you find this comment useful? yes | no (+4)
My dear, what have you for forbidden things that must be hidden? Probably nothing… Like George said: "an ego-stroking program" but not really helpfull and pretty useless. Use the windows-functions (owner/rights) when you need it.

Comment by thatsit — November 6th, 2014 at 5:05 am Did you find this comment useful? yes | no (-4)
#5 #7 Jahid.
Your comment it did not appear until I had posted mine, so thank you for the advice.
My comment was a result of bitter experience, not one I wish to repeat.
Many years ago a Ph.D. student who had completed his thesis lost his hard drive and he had no backup of any form.
So I do tend to be concerned when viewing programs of this type, that is one make data difficult to retrieve for any reason.

Comment by XP-Man — November 6th, 2014 at 5:27 am Did you find this comment useful? yes | no (+2)
#4

A locked file can be seen and the fact it's locked raise suspicion. A folder which can't be seen on the other hand raises none…

Comment by Jim — November 6th, 2014 at 5:51 am Did you find this comment useful? yes | no (0)
#9 XP-Man

Your worry is very common and natural. Actually I found the tricks or process ( whichever you call ) of retrieving the files inside the password protected folder just few days ago when one of my friend could not retrieve his all official documents which he kept inside a folder locked by My Lockbox and The program had some issues , it didn't run. When he reinstall the program it could not locate the folder at all.

Fortunately I was able to recover the files using Winutilites > Undelete .

Then I tried it on another folder which was protected by Secure Folder and it worked. Though Secure Folder has the password retrieval options and also after reinstallation it is always able to locate and recover the folder itself.

Comment by Jahid — November 6th, 2014 at 5:54 am Did you find this comment useful? yes | no (0)
More Titles by FSPro Labs:
Hide Folder Ext
Hide Folder Ext is a unique program that hides folders on external drives. While all other folder hiding applications are intended to hide folders on internal drives, Hide Folder Ext lets you to hide folders on external drives (external HDD, flashdrive, pendrive, etc) or removable media (Secure Digital cards, CompactFlash cards, Memory Sticks).
Event Log Explorer
Event Log Explorer is an effective software solution for viewing, monitoring and analyzing events recorded in Security, System, Application and other logs of Microsoft Windows operating systems. Event Log Explorer greatly extends standard Windows Event Viewer monitoring functionality and brings many new features.