Compress PDF files and reduce PDF file size easily with PDF Compressor!
Price $29.95
.
Today It's FREE
NOTE: PDF Compressor Pro 3.0 is available as a
Giveaway of the day
! You can only download and install it within November 3, 2014.
Never miss a cool giveaway, Subscribe us by email now
PDF Compressor is a Windows utility that compresses scanned PDF files and reduces PDF file size from 30 MB to only 8 MB (Compression Ratio: 23%) fast and easily. This tool allows users to change the compressing value to get better compressed result and content quality. Also, the program supports batch mode and lets users compress hundreds of PDF documents at one time.
PDF Compressor can save the compressed PDF documents to original PDF folder without overwriting original PDF files. But if you like, it can also output compressed files to a specified folder path.
The program can automatically remove the restriction from protected PDF files as well.
DOWNLOAD FREE and Get Free licensed now!
►
Download PDF Compressor Pro 3.0 now
Unzip the package of "PDF Compressor Pro 3.0" you've downloaded, and carefully read the instructions for get Serialnumber or License included.
PLEASE NOTE: PDF Compressor Pro 3.0 is only available to FREE download and install within November 3, 2014.

Did You miss this? Don't worry. You may find the best discount (up to 90%) from Coupons.ivoicesoft.com. Click it then type to search what you want.

Never miss a cool giveaway, subscribe us by email now.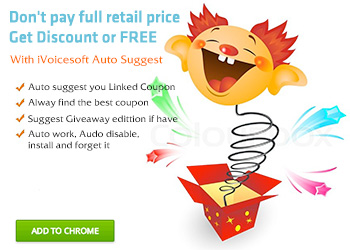 Comment:
Featured Titles:
WinPDFEditor
Win PDF Editor is a Windows PDF editing software product that lets you modify and edit PDF documents like adding text, insert images, removing unwanted content, drawing lines and rotating PDF pages.
PDFZilla
PDFZilla is a desktop application that quickly and accurately convert PDF files into editable MS Word Documents, MS Excel Tables, Rich Text Documents, Plain Text Files, Images, HTML Files, and Shockwave Flash SWF Files.
PDF Eraser
PDF Eraser is a Windows application that deletes and erases text, images, logos and all unnecessary objects from PDF files.