Tame CPU hungry processes and take control of your PC with Process Lasso Pro!
Price $24
.
Today It's FREE
NOTE: Process Lasso Pro 7.1 is available as a
Giveaway of the day
! You can only download and install it within November 7, 2014.
Never miss a cool giveaway, Subscribe us by email now
Process Lasso is a process priority optimization and system automation utility. Although Lasso offers a plethora of advanced rules and features, you need not be a tech whiz to use it. As soon as you install Lasso, without any further action, it's ProBalance technology will immediately start restraining CPU hogs to help your PC retain responsiveness during high CPU loads.
Process Lasso's most popular feature is the unique process optimization technology called ProBalance (Process Balance) that will improve your PC's responsiveness and stability through process priority optimization and/or CPU affinity adjustments. In addition to ProBalance, there are countless features allowing the user to take full automated control of the processes on their PC. You can have a wide range operations performed, or settings applied, each time a process is run. Core optimization technologies allow you to choose on what CPUs/cores a process should run, as well as what their CPU priority class and I/O priority class should be.
New In Version 7: This most recent major version has seen the addition of 'ProBalance Insights', a GUI that allows the user to see cumulative ProBalance activity on a per-process basis. There has also been a considerable amount of product refinement, resulting in a more efficient and reliable offering.
DOWNLOAD FREE and Get Free licensed now!
►
Download Process Lasso Pro 7.1 now
Unzip the package of "Process Lasso Pro 7.1" you've downloaded, and carefully read the instructions for get Serialnumber or License included.
PLEASE NOTE: Process Lasso Pro 7.1 is only available to FREE download and install within November 7, 2014.
Did You miss this? Don't worry.
You may find the best discount (up to 90%) from Coupons.ivoicesoft.com
. Click it then type to search what you want.
Never miss a cool giveaway, subscribe us by email now.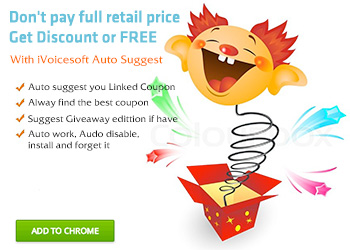 Comment:
Good, I have been waiting for this to update my present version

Comment by Tony Bennett — November 7th, 2014 at 3:07 am Did you find this comment useful? yes | no (-6)
This has been offered here in the past. The general opinion is it will help an older computer but newer computers may not see as much benefits.

Also, the last few versions that were offered turned to a limited version after a year. It would still function but advanced features were disabled. Even worse, it would display a nag screen each time the computer was started. I decided the aggravation of the nag screen did not offset the benefits it provided so I uninstalled it. Could the publisher tell us if this is still the case?

Comment by dadams — November 7th, 2014 at 3:12 am Did you find this comment useful? yes | no (+17)
I think I've been using processlasso since it was first given away here, from a single core computer to a 3rd Generation intel i7 computer. Over the years I've sort of gotten used to the difference in performance when the core engine is running, while I'm fiddling in pictures with photoshop. The performance and response of my computer is a little faster. I think I need to go to a college or something to understand all the other complicated details, but I am really grateful for the update.
1 question though. What is the difference between this version and the previous version?

Comment by Paul — November 7th, 2014 at 3:40 am Did you find this comment useful? yes | no (0)
I had version 6.5, which was also a GOTD download. I just now tried to update it through the program, and to my surprise, it allowed me to perform the update to version 7.1 without having to use today's giveaway!

Comment by CRM — November 7th, 2014 at 4:07 am Did you find this comment useful? yes | no (+6)
Welcome to Process Lasso Pro. The first and best process priority optimizer. We thank all Giveaway of the Day customers for their support of our software.

Process Lasso Pro has come a long way since we last promoted it here. The new ProBalance Insights module will give you greater detail about what's been acted on. We've done a lot of legacy code cleanup and product refinement. Everything is better now, and Lasso is in a great place.

Our development efforts are financed solely by user purchases. We thank you for considering the option to purchase Lifetime Updates today at a substantial discount.

@Dadams:
Process Lasso is just as necessary for newer computers as it is older computers. Any CPU intensive task, such as multimedia editing, can bring a PC to it's knees, and Lasso's ProBalance does a remarkable job at preserving responsiveness during those scenarios. To this day, even on the newest PCs, I continue to see amazing real-world scenarios in which it works wonders.

No, there should not be any problems with the license being lost, even a year from now – so long as no updates are applied. Sorry for the troubles and enjoy!

@Paul: Thanks!

Comment by Jeremy Collake — November 7th, 2014 at 4:12 am Did you find this comment useful? yes | no (+8)
Great software. I use it to tweak automatic priorities, both high for media player and low for background processing I may do.
IO priority tuning is key to a smooth moving system, even under heavy disk IO processing I can leave to run in the background.

Comment by Amit Raam — November 7th, 2014 at 4:36 am Did you find this comment useful? yes | no (0)
Already given away several times in the past, this GAOTD is probably one of the best and most useful PC software ever created so far.

In short, it makes programs running faster by controlling the CPU USAGE of other unnecessary programs that are using too much CPU in the background, through a cutting-edge technology called PROBALANCE TECHNOLOGY designed to balance the CPU processes with a special ALGORITHM, made by the developer of Process Lasso.

This way background programs (i.e. your anti-virus suite) are being given lower priority over the foreground ones (i.e. programs requiring keyboard and mouse usage), in order to dramatically increase the responsiveness of your entire system.

This is of course very useful if you have pretty outdated PC and want to play GAMES along with other applications.

It also sports an amazingly easy to use GRAPHICAL USER INTERFACE, designed to automate some "process related tasks" literally at the push of a button.

5 THUMBS UP from me!!

BEST FREE ALTERNATIVES

* ThrottleStop (==> only for advanced users)
Amazing FREE APP which helps you adjust the performance of your INTEL CPU according to your needs, as well as protect your PC from overheating using the 'BD PROCHOT' option. Great tool ESPECIALLY for laptop nerds like me.

http://forum.techinferno.com/throttlestop-realtemp-discussion/23-throttlestop-guide.html

Download:
http://www.softpedia.com/get/System/Benchmarks/ThrottleStop.shtml

* Portable Bill2′s Process Manager
http://www.softpedia.com/get/PORTABLE-SOFTWARE/System/System-Info/Portable-Bill2-s-Process-Manager.shtml

* Process Tamer
http://www.donationcoder.com/Software/Mouser/proctamer/index.html

* Mz CPU Accelerator 4.1
http://www.softpedia.com/get/Tweak/CPU-Tweak/Mz-Cpu-Accelerator.shtml

Enjoy!! ^_^

Comment by Giovanni — November 7th, 2014 at 4:46 am Did you find this comment useful? yes | no (+14)
Thanks to GAOTD and to the creators of this software. I have one question. Can ProcessLasso help with prioritizing events for global hooks? For example, I have two global jooks established by two different programs running in background. Both hooks react to keystrokes pressed, each one in ots own way. Sometimes one program "wins", sometimes the other. It would be so nice if a program like Process Lasso could enforce order in this situation and make sure only one of these programs is the first to process any keystroke, always. Thank you.

Comment by Jerrry Kclarqk — November 7th, 2014 at 5:15 am Did you find this comment useful? yes | no (-2)
I've used this before and it's a very good piece of software – I am still waiting though for the registration email after 10 minutes… not in spam etc. :(

Comment by blea101 — November 7th, 2014 at 5:32 am Did you find this comment useful? yes | no (0)
Screenshots: