Capture, illustrate and share your viewing experience with Ashampoo Snap 7!
Price $19.99
.
Today It's FREE
NOTE: Ashampoo Snap 7 is available as a
Giveaway of the day
! You can only download and install it within December 2, 2014.
Never miss a cool giveaway, Subscribe us by email now
Whether it's at work, at school, at home or anywhere else, making screenshots has become an everyday task. With Ashampoo Snap 7 perfect screenshots for presentations, manuals or the Internet are made in a jiffy.
Ashampoo Snap 7 has all the tools you know and love and improves them. Apply gradients to almost any object, use the new outline style for visual accents, work with curved lines and arrows or 1-click clone objects for simple reuse. You no longer require an installed application to email your work, thanks to the integrated support for browser-based email clients.
DOWNLOAD FREE and Get Free licensed now!
►
Download Ashampoo Snap 7 now
Unzip the package of "Ashampoo Snap 7" you've downloaded, and carefully read the instructions for get Serialnumber or License included.
PLEASE NOTE: Ashampoo Snap 7 is only available to FREE download and install within December 2, 2014.
Did You miss this? Don't worry.
You may find the best discount (up to 90%) from Coupons.ivoicesoft.com
. Click it then type to search what you want.
Never miss a cool giveaway, subscribe us by email now.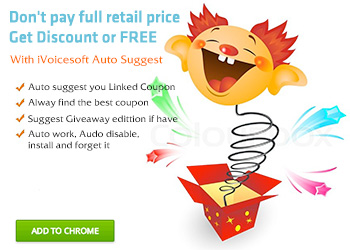 Comment:
Come on everybody, this is a good one, so good I happily pay for it.

So none of the usual Ashampoo knocking over Spam, you only get it if do a lazy install and its easy to stop unwanted e-mails and Notification. (see every Ashampoo Giveaway prior to this one for details)

Comment by Lennard Gill — December 2nd, 2014 at 3:11 am Did you find this comment useful? yes | no (0) Reply
Well said Lennard
I bught "Snap7 " when first released ! Great software tool and I use it for tutorials and the "Video capture" is just great for explaining steps in computer troubleshooting tutorials ! Ashampoo can mail me with offers as often as they like …… as loads of their products are excellent " !
For those that are "annoyed " by Ashampoo mailings …they're easy enough to deal with if they bother anyone too much ! Don't know what all the fuss is about ?

Comment by edbradwell — December 2nd, 2014 at 6:02 am Did you find this comment useful? yes | no (+1)
Installed and registered the Ashampoo way without problems on a Win 8.1.3 Pro 64 bit system.

A German company with all legal information from address to tax number…

When I started the program I was overwhelmed by the different options, the task bar in the upper right corner of the screen, the second taskbar, where it should be. All this is configurable. You can capture, what you want from "freestyle" freeform over video to defined windows.

And now please stop! Look at this picture first! Take some time!

http://www1.xup.to/exec/ximg.php?fid=10801463

Did you see the picture? This is the Ashampoo Snap 7 window. Do you want to take a short snapshot with these possibilities?

IMHO they have packed too much in the program. This is a full scale image manipulation software, from colorpicker to…

Hmmm, difficult to judge. For me it does more, than it should. Too much. Overly complicated.

Does what it claims, a complete set for the absolute screenshot freak.

I'll keep it to see, where is the real use of this program, I prefer a simple click program, with the simple procedure to upload the screenshot to some image hosters.

Comment by Karl — December 2nd, 2014 at 3:27 am Did you find this comment useful? yes | no (+42) Reply
I purchased a previous version of this software following a giveaway some years ago (version 4), and have been really pleased with it since buying. It's nice to get hold of a newer version for free (I missed the previous giveaway from last year).
The activation process is the same as all Ashampoo products; you have to request it via their website and will need to set up a free account before you can get your activation key. One of the great things about Ashampoo is that you will always have access to this registration code once you've registered and can re register at a later date so long as you still have the program installed on your computer and you remeber your Ashampoo account log in. :)
Some community members won't like the fact that the program sets itself in windows start up, but I prefer it this way as I use screen capturing a lot. You can disable this manually though. You can access the program by simply placing your mouse pointer to the edge the upper screen border, which is useful as it allows you to control your video screen captures or you can access the Snap 7 via the icon in the sys tray. If you don't like this you can stop it by removing Snap 7 from startup.

The program allows several methods of capturing screenshots and can be saved as several different formats eg PNG, PDF, JPG, BMP etc and video can be saved as AVI or WMV. You can even capture your web cam input. The video capture can be configured to capture either video input or applications, making it a useful program for creating video introductions to applications and games. :)

Do be sure to uncheck the free driver report during installation. This is one of Ashampoos annoyances that they have added over the last few years (as well as lots of spam though these can be stopped). Also they add a couple of unwanted shortcuts to the desktop such as software deals and one for CleverReach. These can be deleted with no problems caused to the main program.

On first startup a help screen appears. If you find this annoying you can stop it from appearing everytime you boot up Snap 7 by unchecking the box in the bottom left hand corner of the help screen.

Overall Snap 7 is a decent screen capture program; much better than the one you get for free with newer versions of Windows (post XP, i.e. the snipping tool). I used to use Capture Wiz Pro until getting Snap 4 from the giveawayoftheday three or four years ago. I've been using version 5 since purchasing it, I'm looking forwards to using the latest version.

Thank you Ashampoo and the giveaway team for your continued efforts in bringing us free software. I've managed to build up a decent suite of software which i've purchased after trying many of your offerings.

Keep up the amazing work.

Comment by Whiterabbit-uk — December 2nd, 2014 at 3:43 am Did you find this comment useful? yes | no (+49) Reply
Simple installation and registration braced myself for spam, opened up to what can only be described as a hideous interface.
A shame really, lots of good functions all tied together in this mazelike GUI, the only way I could get it to exit was via the taskmaster.
When it puts its grey mist over the screen nothing below is reachable and trying to find out where it was storing my test video, well I reverted to a search engine.
If I can ever come to grips with the misery of its design it will probably be well worth it and it has many good capture functions.

It is so bad in its design and usability that it is indescribable but if you are willing to take the time to learn to use it you will probably finish up with a very useful program.
A shame a lot of potential destroyed by the worst interface I have ever seen in any program!

Comment by XP-Man — December 2nd, 2014 at 4:00 am Did you find this comment useful? yes | no (+25) Reply
Forgot to mention really first-rate capture program that is really easy-to-use, it is an older version of the well-known program SnagIt that the developers have made available for free.
The link is available as shown below: -
http://techylab.com/673/free-download-snagit-7-2-5/

The above link contains the serial number and a link to the download of the program, a very simple program to use that just about as much as today's program, well worth getting.

Comment by XP-Man — December 2nd, 2014 at 5:21 am Did you find this comment useful? yes | no (+16)
XP-Man: Thanks for many great reviews here. But just now your suggested free SnagIt tripped the DEP warning, so I uninstalled. Will look forward to Giovanni's suggestions.

Comment by glnz — December 2nd, 2014 at 7:21 am Did you find this comment useful? yes | no (-2)
Too heavy and complicated for fast and easy screenshots. ScreenshotCaptor can do almost anything that today's giveaway can do, with forth of the size, thrice the speed, very easy and and able many customization. And it is Free
http://www.donationcoder.com/Software/Mouser/screenshotcaptor/

Comment by Gordon — December 2nd, 2014 at 5:05 am Did you find this comment useful? yes | no (+11) Reply
It's Hard to find now but I still use PrintKey2000 on my Win 7 32bit. Those were simple times with simple interfaces. No manuals needed. Allows whole screen and select area. It's a Small TSR that stays out of the way until you need it. I believe PCMagazine offered it free one month years ago. Good luck. I am sorry that I cannot offer a URL to click on.

Comment by David Roper — December 2nd, 2014 at 6:12 am Did you find this comment useful? yes | no (+1) Reply
For PrintKey2000 try http://davidvielmetter.com/tips/printkey-2000-an-oldie-but-a-goodie/

Comment by Helmke — December 2nd, 2014 at 7:49 am Did you find this comment useful? yes | no (+1)
Here's one:

http://davidvielmetter.com/tips/printkey-2000-an-oldie-but-a-goodie/

Comment by Invisible — December 2nd, 2014 at 8:36 am Did you find this comment useful? yes | no (+1)
Okay. This is a Keeper.
I'm a graphic designer, and need sometimes a decent capture app.
I use other PAID for proprietary programs eg corel draw capture etc.
I might get a bit technical for the casual user, but those who know what I'm talking about will know what I mean!

Small review:
1. All important anti-alias. All objects/text blurs etc anti aliased automatically.
2. Outputs to .png automatically (eg upon integrated email send), this is no problem, just an observation.
3. Records moving video, can record from microphone. I haven't tried this feature, but that's a nice feature.
4. Object ordering
5. Integrates with email clients, so if you press the button email to email address, it opens your default email client, similar to windows context menu option. You can remove the Ashampoo text signature.
6. Same as above, but you can send using your webmail client, gmail etc, and also send Dropbox cloud etc.
7. Outputs to .psd (Photoshop), .pdf, jpg etc. Usual graphic files, not exhaustive, but that is unnecessary.
8. On .jpgs, it creates EXIF information viz. Created by Ashampoo blah blah. Easily removed if needed.
9. There are many features that I haven't mentioned, most notably that photopaint, photoshop users would appreciate.

If I were to pay for this software as a simple (by graphic designer standards) quick capture / manipulation package, I would gladly, provided that the price is reasonable. There is a definite productivity increase with this app. WYSIWYG. Good for the whole office.

I suggest try the app for yourself. If it works for you, great. If not, and you need a simple screengrab tool, heck just press SHIFT-PrtScr on windows.

Thanks

Comment by Sticky Steve — December 2nd, 2014 at 6:20 am Did you find this comment useful? yes | no (+14) Reply
I like Snap 7, but I do not plan to have it always active. Once it has started, how can I close it?

Thank You and regards

Rodolfo Giovanninetti

Comment by Rodolfo Giovanninetti — December 2nd, 2014 at 6:25 am Did you find this comment useful? yes | no (0) Reply
I have been a user of Ashampoo Snap programmes for many years (since version 3) and have purchased this version (7) previously.

It is an extremely versatile capture programme and I would not be without it on my computer.

Please also note that once you have downloaded this today, is always accessible from the Ashampoo web site and you can re-download it and re-register it after the giveaway is over.

Comment by George Reywer — December 2nd, 2014 at 6:29 am Did you find this comment useful? yes | no (+7) Reply
I'm happy that sequent versions of this program are published here. I think it's a very good soft from a very good company. It often helps me a lot and it's quite powerful. But Ashampoo could reduce amount of ads. Anyways, I recommend it to you ;)
———————————————————————-
Installed and activated without problems on Win7 SP1 64-bit.

Comment by Dave — December 2nd, 2014 at 6:34 am Did you find this comment useful? yes | no (0) Reply
True, this program does a lot, and there certainly is a learning curve. But to dismiss it out of hand would be doing a disservice to the program.

I was amused at one of the comments that said they didn't know how to close the program, so they used the task manager to shut it down. Obviously, this person did not bother to read any of the helpful splash help screens before using.

I've always used MWSnap for my screen capture needs, but this is definitely worth considering, as there are many facets to this program I always thought would be helpful in MWSnap.

I'd really like to see configurable hotkeys to perform some of the basic functions; such as which mode I want to use for capture. But all in all, I think this is definitely something I want to explore a little (or a lot) more.

Give it a chance.

Comment by Chris — December 2nd, 2014 at 6:47 am Did you find this comment useful? yes | no (+4) Reply
Thank you but I can and did read!
The program refused to close and produced an incomprehensible error message, as incomprehensible as its miserable interface.

Comment by XP-Man — December 2nd, 2014 at 8:34 am Did you find this comment useful? yes | no (0)
Chris – if a user has to go through the some "helpful" splash screens to figure out some basic tasks, like shutting a program down, that means that whoever designed the interface has some work to do. 99% of programs feature min/max and close buttons in the upper right hand corner of the window. I haven't installed this yet, but the comment tells me the interface designer decided to be different.
If there's a good reason for being different, then fine. Otherwise, the interface designer is just screwing with users :)

Comment by alordofchaos — December 2nd, 2014 at 8:42 am Did you find this comment useful? yes | no (0)
I use MS's Snipping tool all the time, at least once a day and have always been a bit frustrated with it's limitations. This program opens up a lot of options that I want and appreciate. I use other Ashampoo offerings and appreciate their products. Thanks GOTD and Ashampoo!

Comment by RayB — December 2nd, 2014 at 7:00 am Did you find this comment useful? yes | no (+3) Reply
I downloaded the software.went to install and it required a licence key. Applied for a key and it would not take my email address.So I deleted my download. BS it's free to try why do you need a key.

Comment by Ivan — December 2nd, 2014 at 7:02 am Did you find this comment useful? yes | no (-5) Reply
THANK YOU GOTD and GmBH and Co .for a very nice application, installed and setup with reg code without problem .I am using this now works very well and I had no difficulty maneuvering through the settings or understanding the functions. This is definitely a keeper… happy holidays..

Comment by Michael — December 2nd, 2014 at 7:13 am Did you find this comment useful? yes | no (+2) Reply
Just try this:

http://icecreamapps.com/Screen-Recorder

I'm pretty sure you'll thank me for the tip!

Comment by Giovanni — December 2nd, 2014 at 7:23 am Did you find this comment useful? yes | no (+1) Reply
I just need a simple software to allow me to capture the entire page that's outside the screen. Can anyone recommend a simpler program than this please? Thank you!

Comment by David C. — December 2nd, 2014 at 7:38 am Did you find this comment useful? yes | no (+1) Reply
If you use the Firefox browser, this addon will let you capture the unseen part of the screen:

https://addons.mozilla.org/en-US/firefox/addon/abduction/?src=api

Comment by Byron — December 2nd, 2014 at 8:22 am Did you find this comment useful? yes | no (0)
Checkout Screenpresso. Capture screen, windows, sections, auto-scrolling, time delayed capture, video, cloud upload, link to Evernote, GDrive, Box, etc. etc. Regularly updated. Lifetime license too.

Comment by Manic Monde — December 2nd, 2014 at 8:34 am Did you find this comment useful? yes | no (0) Reply
Screenshots: