Install PCBoost to instantly increase the speed of your computer!
Price $9.99
.
Today It's FREE
NOTE: PCBoost 4.11.24 is available as a
Giveaway of the day
! You can only download and install it within December 29, 2014.
Never miss a cool giveaway, Subscribe us by email now
PCBoost allows you to run programs such as games, video production, photo editing software and any software that requires excessive processing power to run much faster than the software was originally designed for. With little to no effort you can instantly force programs and games to run faster on your computer without having to purchase new hardware.
Most programs are designed to use a minimal amount of CPU (processor) power which often leads to the CPU being idle and not used to its fullest potential, with PCBoost your computer is able to take advantage of this by allocating more CPU power to the currently active application.
DOWNLOAD FREE and Get Free licensed now!
►
Download PCBoost 4.11.24 now
Unzip the package of "PCBoost 4.11.24" you've downloaded, and carefully read the instructions for get Serialnumber or License included.
PLEASE NOTE: PCBoost 4.11.24 is only available to FREE download and install within December 29, 2014.
Did You miss this? Don't worry.
You may find the best discount (up to 90%) from Coupons.ivoicesoft.com
. Click it then type to search what you want.
Never miss a cool giveaway, subscribe us by email now.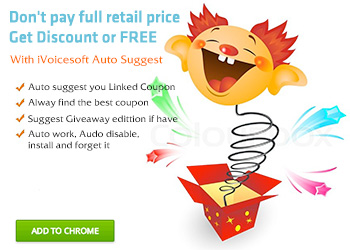 Comment:
Installed and registered without problems on a Win 8.1.3 Pro 64 bit system.

A company without name and address, but a phone number.

We had a previous version PCBoost 4.9.9 on September 27th, 2013.

And a big claim :
Install PCBoost to instantly increase the speed of your computer. Applications such as games, video production and photo editors are immediately faster. Download and buy your copy of PCBoost today!

Hmmm. After my basic knowledge as a newbie, the computer speed is determined by processor speed, memory speed (timing…), the bus speed defined by the manufacturer of the main board, than access to disks and that's it. There is no way to increase my computer speed without going into cpu clock cycles, memory cycles. Everything else is simply pure marketing.

You can of course change privileges, but this does in no case affect the speed of the computer.

Okay, I run a first test to see, how my computer is working:

http://i.imgur.com/M1VE3NJ.png

Great! I've got a pure 10! ten out of ten. This benchmark is simply useless. It does not show, what's really going on.

The "detailed" computer processor statistics is not detailed…

http://i.imgur.com/aizfulU.png

If you like such gimmicks, you can immediately "speed up", not not your computer…

Uninstalled via reboot. I don't buy snake oil, but elephant powder…

Comment by Karl — December 29th, 2014 at 3:35 am Did you find this comment useful? yes | no (+49) Reply
Missed seeing your comments. Happy Blessed Holidays.

Comment by gemini1supreme — December 29th, 2014 at 5:31 am Did you find this comment useful? yes | no (+2)
@Karl..Good to see you after a long time…

Comment by Edith Patte — December 29th, 2014 at 5:45 am Did you find this comment useful? yes | no (0)
'PCBoost by PGWARE' had been reviewed and rated as 'POOR' by
Softpedia Editor in 2005. Also many users have expressed their disappointment about this. I don't want to be dissappointed right now and I shouldn't be because I have been using following Freeware programs alternatively.

*Process Lasso

*Process Tamer

*Mz CPU Accelerator

*FreeRAM XP Pro (=>SOFTPEDIA PICK)

*Wise Game Booster Portable

* GBoost

 Thanks 

Comment by Jahid — December 29th, 2014 at 4:08 am Did you find this comment useful? yes | no (+24) Reply
There are many free alternatives, and better paid ones. Want a good giveaway idea? How about Auslogics BoostSpeed. It actually speeds the computer up by freeing unused memory, allowing even novice users to edit what loads on boot, and opening up the TC/PIP receive windows. Have tried this program here before.

Comment by JackS1971 — December 29th, 2014 at 5:20 am Did you find this comment useful? yes | no (+3) Reply
I 100% agree with Carl. If you have a Escort it's not going to change into a Mustang! No software is going to speed up your tired Escort. Start changing hardware if you want more speed. Better yet, buy a new computer. I have to pass on this GOTD.

Comment by jim0214 — December 29th, 2014 at 5:34 am Did you find this comment useful? yes | no (0) Reply
After reading the above comments by Karl and Jahid and the full review at Softpedia whom I believe they know what they are talking about , the scariest part in the review is this :(Let's go through the list,, On startup they get your Name/Serial and computer IP Address, and they don''t guarantee that they will not sell it to anyone that''s willing to buy it)!! I think there is no need to test the program any further with all respect to the publisher .

Comment by Alan Rayan — December 29th, 2014 at 5:36 am Did you find this comment useful? yes | no (+3) Reply
Screenshots: