Photo Stamp Remover is a photo correction utility that can remove watermarks, date stamps and other unwanted objects that appear on photographs.
Price $49.99
.
Today It's FREE
NOTE: Photo Stamp Remover 7.1 is available as a
Giveaway of the day
! You can only download and install it within December 24, 2014.
Never miss a cool giveaway, Subscribe us by email now
Photo Stamp Remover is a photo correction utility that can remove watermarks, date stamps and other unwanted objects that appear on photographs. Offering a fully automatic process, the program uses an intelligent restoration technology to fill the selected area with the texture generated from the pixels around the selection, so that the defect blends into the rest of the image naturally.
What takes hours to correct using the clone tool, can be accomplished in a minute using Photo Stamp Remover.
Purchase an Unlimited Photo Stamp Remover license (with support and updates) at 70% discount!
DOWNLOAD FREE and Get Free licensed now!
►
Download Photo Stamp Remover 7.1 now
Unzip the package of "Photo Stamp Remover 7.1" you've downloaded, and carefully read the instructions for get Serialnumber or License included.
► Find out The Softorbits discount codes
PLEASE NOTE: Photo Stamp Remover 7.1 is only available to FREE download and install within December 24, 2014.
Did You miss this? Don't worry.
You may find the best discount (up to 90%) from Coupons.ivoicesoft.com
. Click it then type to search what you want.
Never miss a cool giveaway, subscribe us by email now.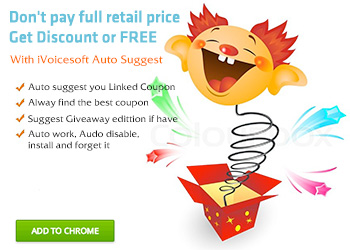 Comment:
I gave this a thumbs down, because its sole purpose is to remove copyright stamps from images. As a photographer, who has seen the work of fellow photographers stolen, I believe that this type of software, like other pirating software, should be illegal.
Comment by Tom — December 24th, 2014 at 3:23 am Did you find this comment useful? yes | no (-37) Reply
There are many ways to remove anything you want to remove from a photo. If you don't want others to use your anything then lock it in a volt and anything posted on the net can be taken and altered.
Comment by Kenneth Kelly — December 24th, 2014 at 4:59 am Did you find this comment useful? yes | no (+8)
As usual when we register a program from SoftOrbits, whatever it is, we get thanked for registering Photo Resizer. Is it some kind of subliminal marketing strategy to engrave the name "Photo Resizer" in our brain so that we buy it someday, without knowing why? Let's not be paranoid, it's just negligence, which explains too the alarming window "Activation error. The license key has been already activated" which might appear at further openings. (Close it and don't worry. Your key is still activated.)
Negligence again explains the absence of a changelog on SoftOrbits' site (at the risk of being repetitive in my comments: ladies and gentlemen developers and webmasters, changelogs and differences between standard, pro etc are minimal information requirements!), so are there some major improvements, as suggested by the new version number? I didn't notice any during the quick look I had, but for sure the only one I was really looking for is still missing: the ability to select where to pick replacement pixels instead of having the program automatically pick them in the immediate surroundings of the object to be removed, which can be adequate to erase a small date stamp or watermark (to be fair, as its name says, the main purpose of this program) on a more or less uniform background, but can prove totally inefficient for a more complex task.
Let's say for instance that you are extremely proud of this panorama picture you once took of a grandiose sunset over the Grand Canal in Venice, but, for some very private reasons, you are now deeply convinced that the person smiling tenderly at you from the gondola in the foreground spoils the view. If there is nothing but water or sky around him/her, with Photo Stamp Remover he/she will gently dissolve in the dark water or evaporate in the blue sky, but if there is a palace, a church or a gondolier nearby he/she will be turned into a horrible jigsaw puzzle of little bits of stone, brick, human flesh etc. macerating in water, which might accurately reflect the way you now feel about this bas*rd/b*ch who didn't deserve you anyhow, but will have a poor effect in your slideshow. With InPaint by TeoreX or Retouch Pilot by Two Pilots, to mention only two programs regularly offered here, you can replace whomever/whatever you consider an eyesore with whatever you choose from any part of the picture.
Still, Photo Stamp Remover has a couple of edges over its two competitors:
1/ It supports much more image formats (GIF, ICO etc.);
2/ It supports transparency (as InPaint did earlier, but no longer does) but not perfectly. It RETAINS transparency where it is originally but won't CREATE transparency (i.e. transparent pixels picked in the source area become opaque when copied in the target area). But this is annoying only if you want to use it in conjunction with a more fully featured graphics program with layers.
If you already have the more comprehensive Photo Retoucher, also by SoftOrbits, and also offered here earlier, which features most of the tools of Photo Stamp Remover plus many others, what you will gain with this one are "magic wand" (selection by color), "quick remove" (beside just "remove") and batch mode.
A few hints:
- Don't look for an eraser or undo brush to modify your selection: there is none. Check the "deselect" box on the right and re-apply the brush over the parts to be excluded from the selection. Not very intuitive at first, but you get used to it.
- Clicking the "Original image" button allows you to toggle between original and modified image.
- Using Photo Stamp Remover is like throwing dice: you get a different result each time. So you can undo, try again, undo, try again… (your selection will stay) until you like what you see. "Quick remove" is faster, and doesn't necessarily give less good results. But if you are a perfectionist, you will often have to finalize manually in a graphics software anyway – or work directly from one, using a clone stamp, layers etc.
Merry Christmas Eve to everybody from Paris!
Comment by ouialaraison — December 24th, 2014 at 3:54 am Did you find this comment useful? yes | no (+20) Reply
This has been offered several times . I still have an old version (ver 4.2 ). In it's HOMEPAGE there is a claim that Using Photo Stamp Remover, you can erase cleanly unwanted artifacts like date stamps, watermarks, logos and undesirable objects.
Face and skin imperfections, such as wrinkles, acne, and tattoos can be cleaned up too.
But to be honest this program couldn't meet all its claims. Okay, the program is very simple to use but the output can't be as good as you would have wanted. Basically what I've realized after several usage that It can remove the date stamp or simple text with a not bad output but its result after removal of any objects or even logos is just very poor ( tended to blur the portion,but didn't entirely remove its presence).
I feel that Teorex Inpaint has the edge over it when unnecessary object removal is the concern. Though for every case I take the assistance of clone stamp tool of any Editor to get a more perfect result.
I have still kept this program since 2011 as it sometimes serves some of my specific purposes .
Comment by Jahid — December 24th, 2014 at 4:34 am Did you find this comment useful? yes | no (+5) Reply
Download and installed this software on my windows 7 laptop without any trouble
This GAOTD is almost like BatchInpaint 2.2. Both of them will allow to remove watermarks, stamps, date and other unwanted elements.
I already had BatchInpaint so I did not found this product useful for me. But, anyone who slip out BactInpaint can try this software to for removing unwanted object from photograph. Application is simple use, having straights forward options. From my side I give 7/10 to this product. Individuals who specifically wish to erase water marks and all can use this Free Application.
Merry Christmas Eve to All of You…..
Comment by Angela Yorkie — December 24th, 2014 at 4:52 am Did you find this comment useful? yes | no (+2) Reply
Featured title:
SoftOrbits Digital Photo Suite
SoftOrbits Digital Photo Suite product line provides data solutions for retouching, resizing, converting, protecting and publishing your digital photos.
Purchase a personal license at 70% discount