ScanMyReg scans the Windows registry and finds incorrect or obsolete information in the registry.
Price $39.95
.
Today It's FREE
NOTE: ScanMyReg 2.2 is available as a
Giveaway of the day
! You can only download and install it within December 11, 2014.
Never miss a cool giveaway, Subscribe us by email now
ScanMyReg is the fastest and most effective registry optimization utility in the market. It scans the Windows registry and finds incorrect or obsolete information in the registry. By fixing these obsolete information in Windows registry, your system will run faster and error free.
It also defragments the registry, keeping it streamlined for smoother system performance. The backup/restore function of the tool let you backup your whole Windows Registry so you can use it to restore the registry to the current status in case you encounter some system failure.
DOWNLOAD FREE and Get Free licensed now!
►
Download ScanMyReg 2.2 now
Unzip the package of "ScanMyReg 2.2" you've downloaded, and carefully read the instructions for get Serialnumber or License included.
PLEASE NOTE: ScanMyReg 2.2 is only available to FREE download and install within December 11, 2014.
Did You miss this? Don't worry.
You may find the best discount (up to 90%) from Coupons.ivoicesoft.com
. Click it then type to search what you want.
Never miss a cool giveaway, subscribe us by email now.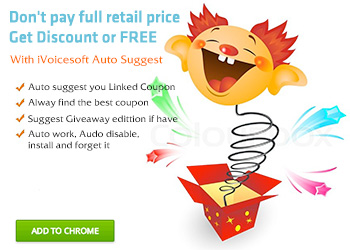 Comment:
I'm giving this a thumbs down simply because of the nature of the application. There's no such thing as an idiot-proof registry cleaner/defragger, and doing so doesn't noticeably enhance your OS. If you feel that you MUST play Russian Roulette with your OS, you could use the free CCleaner, which includes a registry cleaner, and also asks if you want to back up the existing registry before cleaning. $40 for ScanMyReg is a little over the top, but since it's free today… nope, still isn't a good deal.

Comment by Tom — December 11th, 2014 at 3:21 am Did you find this comment useful? yes | no (+18) Reply
If you want to grab ScanMyReg and give it a go, be my guest. I, however, stay away from software that claim to boost performance by cleaning or defragging the registry and unless you have a really messed up computer (maybe you have an old computer on which you install/uninstall lots of program and have a bloated registry as a result), I'd suggest you do the same. If it ain't broke, don't fix it.

Recomend Some Great System Tools:
CCleaner @ http://www.piriform.com/ccleaner
Advanced SystemCare Free @ http://www.iobit.com/advancedsystemcareper.php


Comment by Jason — December 11th, 2014 at 3:21 am Did you find this comment useful? yes | no (+13) Reply
This software is for anyone that actually believes that registry cleaners work. From what I know, and through reading various articles on the net, they do more harm than any good. Here is an excellent article on the subject: http://www.howtogeek.com/171633/why-using-a-registry-cleaner-wont-speed-up-your-pc-or-fix-crashes/

I haven't voted because I'd base my vote on what the program does, rather than the program itself and I haven't tested it(nor will test it).

If anyone uses a time machine program like TimeFreeze or the like, can test the software to see if it actually does any good.

Comment by Gavin — December 11th, 2014 at 3:32 am Did you find this comment useful? yes | no (+14) Reply
There is not special case when PC has adobe updater, google updater and HP assistance software running from autostart. Probably Nero TrayBar helper.

There is bloadware and noticably it slows down PC. After registry cleaning / and temporary files cleaning/ done by CCleaner I almost always see speed improvement /seconds from turn on to desktop/.

The same is with codecs from Windows Media Player – that I dont use. I don't understand why in registry there SHOULD be registered services from mediaplayer codecs. Always when I install mine favorite CodecsPack it offers me cleaning registry from that Invalid entires. During multimedia file lauching mine OS doeasn't checks that unnecessery and deleted registry entries/services/DLL's.

Next time dont cite an article about some bloat/riskware.

Comment by DarkRaver — December 11th, 2014 at 3:55 am Did you find this comment useful? yes | no (-8)
Installed and registered without problems on a Win 8.1.3 Pro 64 bit system.

A Chinese company (digitally signed SuiNing Yilong Software Store) with an US address. We had had a previous version 2.0 on March 28th, 2012.
Here are the old reviews:

http://www.giveawayoftheday.com/scanmyreg20/

A big claim : ScanMyReg is the fastest and most effective registry optimization utility in the market.
I have to admit, that it doesn't interest me, if a registry scanner needs 45 seconds or 1:50 minutes.

A fancy not resizable interface opens. In the setting you can change language from Estonian, Farsi to Vietnamese, you can select the regions to scan, which does only make sense for those, who know, what this means, there is an editable exclusion list with ten entries, showing some "recent file list", which should not be "cleaned" automatically – and the needed option to create a restore point… The exclusion list starts the regedit process in a new window for the experienced user.

Let's see what happens. I run this on a newly installed system (last week) with a "clean" registry. Of course under a virtual environment.

The non resizable window makes it difficult to read all the information. Hmmm, a second run without "cleaning" finds 85 "errors". Most of the errors are MRU lists, which will be rewritten anyhow the next time the program starts. You can select which entries to delete, after deleting all 85 entries a new scan shows again 12 "errors". Some of the lists will be built up automatically…

The best is the registry backup. This is done easily, you can select which old backups shall be deleted automatically. I did not test the restore, because this would not work in my case (reboot…)

The software does, what a registry cleaner does, not more and not less. Has some extra features, not needed by most of us. If you want a scanner, defragmenter (read about that feature…), a registry backup and restore, you can keep this. Whether this is the fastest and most effective?

It makes no sense to replace an existing version – I cannot say, if I have saved 10 seconds or found 12 keys more. This is useless like snake oil.

Uninstalled via reboot.

Comment by Karl — December 11th, 2014 at 3:43 am Did you find this comment useful? yes | no (+18) Reply
I too would advise caution when using this type of program. You can run it and everything could seem fine. Until one day you find some of your programs are either no longer registered or won't run. I can suggest if you do decide to run any registry related program, make up a schedule and stick to it. It is much easier to look over a few dozen "errors" rather than waiting for them to build to the thousands.

Comment by dadams — December 11th, 2014 at 3:47 am Did you find this comment useful? yes | no (+11) Reply
ccleaner I do not like. I use the AthTecRegistryCleaner, – also giveaway -, and I will have no other!

Comment by Katalin Csángó — December 11th, 2014 at 3:50 am Did you find this comment useful? yes | no (-12) Reply
Katalin, could you explain why you do not like CCleaner? Many readers, including me, have been using CCleaner for many years now and never had any problem with it.

Comment by krypteller — December 11th, 2014 at 4:06 am Did you find this comment useful? yes | no (+16)
I have used
WinUtilities PRO by this developer ( YL Computing ) and It consists of some really useful tools. But I never tried it's Registry Cleaner Tool and so is ScanMyReg.

After using (or trying ) few Registry Cleaners by different Developers I can only rely on
Vit Registry Fix and
CCleaner. I have found these two program's nice and healthy co-ordination which ensures the safety of the two programs. I've been using these two programs simultaneously for more than 3 years and They never let me down.
Vit Registry Fix has Professional and FREE Edition ( like Ccleaner ) but Good thing is it's Pro version is a Shareware. No limtitation to it's functionality.
I'll strongly recommend Vit Registry Fix .

Comment by Jahid — December 11th, 2014 at 4:03 am Did you find this comment useful? yes | no (-2) Reply
I have to ask, but please don't take offense… Have you been using Vit Registry Fix for over 3 years and never bought a license? It kind of goes against the spirit of shareware, especially if you use it often. The license is lifetime and only $5.95 which is very reasonable if it works as advertised.

Comment by goo — December 11th, 2014 at 5:28 am Did you find this comment useful? yes | no (+4)
Installing software installs a plethora of registry keys (especially through file associations and right-click menu options) but when you uninstall an application, not all registry keys are removed. Some software can get 'confused' if the OS believes an application handles a certain event, but that application no longer exists.
Well, thats the history lesson over with. Onto the software.
You can either be ruthless and remove all obsolete / incorrect registry keys, or err on the side of caution. Sometimes, removing an 'obsolete' key can cause further issues – unexplained crashes, where the OS can't handle the now-missing registry key.
Removing redundant / obsolete keys won't magically speed up your machine. The biggest bottleneck in a PC is either lack of memory (Windows 8 can't run smoothly on 1 GB of RAM) or a slow hard drive (some PCs still use IDE disks). Removing dud keys from the registry and expecting a speed increase is like emptying the ash-tray in your car and hoping you get extra miles-per-gallon performance.

CCleaner has already been mentioned, and for good reason – a lot of work has gone into making sure it only removed the crap (thus its name) and that it does it reliably. Stick with the well-recommended software.

Comment by Chris Locke — December 11th, 2014 at 4:09 am Did you find this comment useful? yes | no (+4) Reply
I use portable freeware Wise Registry Cleaner.
Safe and never crashed my PC.
Not overly aggressive.

I tried CCleaner registry cleaner and it was too aggressive, leading to problems are it cleaned registry.

For today's ScanMyReg, I will wait to read the outcome from other users who have used it to clean their PC registry.

All time record for most aggressive registry cleaner I have used was from Software4U givingthe following registry scan results on 12-Aug-2012:
ActiveX. OLE etc 407 Errors
Software 49,590 Errors
Process entries 539 Errors
File types 874 Errors

Comment by ric — December 11th, 2014 at 4:23 am Did you find this comment useful? yes | no (0) Reply
Installed and registered without problems, under status there are three light blue buttons with white text, designed to be unreadable for old eyes.

As well as cleaning up the registry it also claims to defragment it; it is my understanding that the registry is loaded into memory on start-up, if correct it is pointless to defragment it.

Before testing I used Wise Registry Cleaner's safe to remove option to clear up some of the registry, used it for years with never the slightest problem and at times it does improve performance.
Ran Auslogics Registry Cleaner to see how many errors it found, in total 36, Auslogics tend to make very solid programs, tend to trust them.

Now to test today's download, it found approximately 750 registry errors, leading me to believe it is a very aggressive registry cleaner, great when they work, disastrous when they fail.
If you're going to use a registry cleaner of this type in need to examine the items carefully, you can do it in this program by clicking on the item.
This opens a small window for insufficient time to actually read it.
As the main window cannot be resized it is difficult to read information regarding the registry error, a rather thoughtless approach.

Really aggressive registry cleaners have proved useful in the past, when an OS was on its last legs and so slow as to be unusable, a kill or cure option.

Frankly I didn't feel too confident with today's program. I didn't feel enough thought has been given to the interface so it made me wonder about the amount of thought giving to its cleaning function, so I'll pass!

Comment by XP-Man — December 11th, 2014 at 4:25 am Did you find this comment useful? yes | no (+2) Reply
I use System Mechanic and it scans my registry on a regular basis. It's been going for almost two years now with no problems. I install many programs and give Windows a hard time.

Comment by Phanus — December 11th, 2014 at 4:31 am Did you find this comment useful? yes | no (+3) Reply
I always think twice or thrice before downloading any Registry Cleaner, because I had a really bad experience with Registry cleaning wizard. So this time I'm waiting for users reviews and after reading @Karl one, I think I should stay away from this free giveaway.

Comment by Stuart — December 11th, 2014 at 5:03 am Did you find this comment useful? yes | no (0) Reply
If you really, really, really think a 'clean' registry will improve performance in some way don't play Russian Roulette with a cure-all program like this. Use an uninstall program that seeks and removes leftover files & folders and registry entries when you remove a program from your Windows system. Something like Revo Uninstaller http://www.revouninstaller.com/

Microsoft's answer to Are registry cleaners necessary? Read this

Comment by Zippy — December 11th, 2014 at 5:25 am Did you find this comment useful? yes | no (0) Reply
What good is an application that CLAIMS to FIX ERRORS in giveawayoftheday.com and doesn't offer anything more than a mere SCAN???

This app is USELESS!

Comment by Foxxe — December 11th, 2014 at 5:44 am Did you find this comment useful? yes | no (0) Reply
Featured titles:
WinUtilities Pro
WinUtilities Pro is an award winning collection of tools to optimize and speedup your system performance. This suite contains utilities to clean registry, temporary files on your disks, erase your application and internet browser history, cache and cookies.