Simple and smart, powerful and elegant - Simple Sheets is everything you've come to expect from spreadsheet editor.
Price $40.40
.
Today It's FREE
NOTE: Simple Sheets 1.2 is available as a
Giveaway of the day
! You can only download and install it within December 30, 2014.
Never miss a cool giveaway, Subscribe us by email now
Simple and smart, powerful and elegant – Simple Sheets is everything you've come to expect from spreadsheet editor. Use it to create, manage, print and convert spreadsheet files of any popular format.
Load, convert and save workbooks, use tools and functions you already experienced with, enjoy intuitive, minimalist interface that's inspired by Windows 8 – Simple Sheets got everything that you've come to expect from Microsoft Excel, except for the price!
DOWNLOAD FREE and Get Free licensed now!
►
Download Simple Sheets 1.2 now
Unzip the package of "Simple Sheets 1.2" you've downloaded, and carefully read the instructions for get Serialnumber or License included.
PLEASE NOTE: Simple Sheets 1.2 is only available to FREE download and install within December 30, 2014.
Did You miss this? Don't worry.
You may find the best discount (up to 90%) from Coupons.ivoicesoft.com
. Click it then type to search what you want.
Never miss a cool giveaway, subscribe us by email now.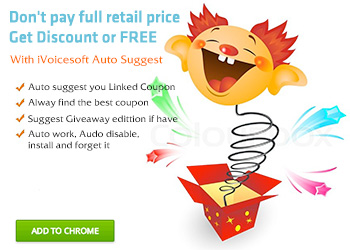 Comment:
Installed and registered without problems on a Win 8.1.3 Pro 64 bit system.

The installer installs a "portable" version, seems to be bound to a machine code. I did not test the portability. The key could be a little bit longer, making a fun for entering this manually.

The program folder shows a clear structure of the used files. You don't see this very often. Have a look into the program folder! If somebody programs such a clear structure. it is a sign of competence, at least for me – no yytools.exe or Fymcya101.dll.

Like the program folder the interface upon start. A calm white interface. You load your existing spreadsheet or you crate a new one. The program loads without problems existing EXCEL sheets.

And now … on a short look through the options, this program has all, what is needed for spreadsheet calculation. It becomes more and more "crowded", when you enter "insert" or "formulas". This IS an Excel replacement, if you don't need all the macro stuff – and the automation procedures.

A quick look to a print preview. It has everything you'll need for a "simple" and basic spreadsheet editor.
http://i.imgur.com/WdzTaJ7.png

Makes a very good impression. This software does not compete with the Free-Open-Other office programs. It is an easy to handle editor, if you are familiar with EXCEL. Otherwise also simple programs can be difficult to handle.

My compliment goes to the programmer. I will keep this as an fast spreadsheet viewer&editor.

Comment by Karl — December 30th, 2014 at 3:41 am Did you find this comment useful? yes | no (+37) Reply
Why is it different from this: http://www.openoffice.org/product/calc.html ? Apart from price, of course!

Comment by Elmaz — December 30th, 2014 at 3:56 am Did you find this comment useful? yes | no (-10) Reply
There are many freeware programs which can compete with each other. Inspite of having Open Office or Libre office suite I generally like to use Kingsoft Spreadsheets Free which is a part of Kingsoft Free Office Suite presently known as WPS Office Free 2014.

Among Light and Portable Programs I can suggest Gnumeric Portable though I also carry Portable Version of LibreOffice with me.

 Thanks 

Comment by Jahid — December 30th, 2014 at 3:57 am Did you find this comment useful? yes | no (+9) Reply
Thank you!

Actually, Giveawayoftheday version of this software is not portable as there was some issues with packed portable version and VirusTotal (4-5 warnings). Portable version is packed to single executable (i.e. no dll's or other application folders in program directory) with sandbox folder to store registry changes. Since it is still shareware product the only thing that stored on user machine is license data. You still can use this application on any other machine – 30 days trial is more than enough to finish whatever you need.

In the upcoming update more options will be introduced including 2 more languages support (German and Spanish), extended file information in main menu and more flexible content management system.

Comment by Algorithms In Motion Co. — December 30th, 2014 at 4:09 am Did you find this comment useful? yes | no (+10) Reply
Featured titles:
Simple Blanks
Simple Blanks is WYSIWYG text processor and reporting tool with data shaping, master-detail reports, mail merge and so much more. Create standard and ad hoc reports without any technical expertise. All you need is your trusty Word experience and a data source. Unlike complex and hard-to-learn classic reporting tools, Simple Blanks is oriented on a wider range of tasks, allowing users to use it without any particular qualifications.
Simple Graphs
Simple Graphs is interactive data visualization tool optimized for real-time data consumption and analysis. Smart, powerful and elegantly easy-to-use, Simple Graphs will bring your data analysis experience to another level of accessibility. Enrich your business intelligence with stunning interactive dashboards and performance indicators that are straight.