Simple Words is an intelligent, easy to use and elegantly designed text processor.
Price $40.70
.
Today It's FREE
NOTE: Simple Words 1.2.0 Portable is available as a
Giveaway of the day
! You can only download and install it within December 18, 2014.
Never miss a cool giveaway, Subscribe us by email now
Small, powerful and smart text processor with integrated spellchecker. Simple Words features beautiful and elegant minimalistic Windows 8 style interface and formidable versatility.
You don't have to learn how to work in Simple Words from scratch as it implements intuitive environment that's reminiscent of Microsoft Word and everything that you've come to expect from a Microsoft application except for the price!
DOWNLOAD FREE and Get Free licensed now!
►
Download Simple Words 1.2.0 Portable now
Unzip the package of "Simple Words 1.2.0 Portable" you've downloaded, and carefully read the instructions for get Serialnumber or License included.
PLEASE NOTE: Simple Words 1.2.0 Portable is only available to FREE download and install within December 18, 2014.
Did You miss this? Don't worry.
You may find the best discount (up to 90%) from Coupons.ivoicesoft.com
. Click it then type to search what you want.
Never miss a cool giveaway, subscribe us by email now.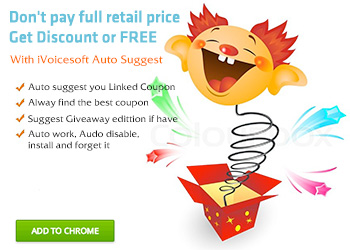 Comment:
For document processing I tried to find a little ( in size ) program alternative to Microsoft Word and I was able to pick one from a few which is
Kingsoft Writer Free. This is also compacted with
Kingsoft Office Free.I still use this mostly.

The basic and common features are also found in today's Giveaway Program "Simple Words 1.20 "
*Really simple and efficient like Kingsoft Writer Free.

*similar ( working environment ) to Microsoft Word.

*ability to handle several document formats such as DOC, DOCX, ODT, EPUB, HTML,MHT,TXT and RTF etc.

*export to PDF directly.

and this one is a portable version.

One more similar Portable Program can be suggested –
Portable AbiWord : an Open Source (GPL) program , this is also a powerful and similar to MS Word which supports a number of document types including Microsoft Word, Word Perfect, Open Document (
OpenOffice.org), Office Open XML (MS Word 2007), RTF, HTML, Palm etc.

 Thanks 

Comment by Jahid — December 18th, 2014 at 4:21 am Did you find this comment useful? yes | no (+14) Reply
Thanks, Jahid, taking your time to try, evaluate and share your experience with this program. I have tried my very best to search for different language packs for Simple Words, but I couldn't find anything at all. I allready have Atlantis Word Processor as portable, but it doesn't have a Danish Language pack. Now, my humble question is, if todays offer supports a wide range of languages – Danish in particular ? Otherwise I'll stick to Atlantis. However, thanks a lot for the offer to Algorithms In Motions and of course the team behind GOTD. Greets from Denmark.

Comment by Allan — December 18th, 2014 at 5:20 am Did you find this comment useful? yes | no (+1)
Offer is nice and (to me) well done – but lacks some languages (I am german…)

I add a suggestion:
"Ashampoo Office 2010″ FOR FREE (is indeed a licensed Version of well known an highly rated Softmaker Office…)

some goodies:
- supports MANY(!) languages
- really grown-up office suite!
- office suite ca be made fully portable (run the included "USBSTICK.EXE")!
- upate for free from Softmaker´s Server to REAL Softmaker Office 2010, last revision!
- IF you register, you get upate offers to Office 2012 for a reduced price (sometimes REALLY cheap)
- can be stripped off to a REALLY SMALL word prozessor; just the following files are needed!
TEXTMAKER.EXE…2.899.968 (* sizes after compacting with PEC; UPX will do similar compacting)
TEXTMAKER.IWR…..615.817
TEXTMAKER_XX.DWR..528.791
TMW.BAU………….6.074
OFRES10.DLL………4.096 (Holds Registritaton data)
+ Additional (optional!) "SPELL" folder with appropiate files…

have fun!

Comment by wosa — December 18th, 2014 at 5:38 am Did you find this comment useful? yes | no (+3)
Only Russian or US English available in the spellchecker. Not acceptable in a paid for word processor. Killer for me anyway.

Comment by lofty — December 18th, 2014 at 4:30 am Did you find this comment useful? yes | no (+15) Reply
Have probed a little further (no local help file, have to go online and what's there isn't brilliant – possibly thinking simple minds here again) and this 'simple' WP can do some rather non-simple things like correctly read and display an mht file, and then export it as a pdf with links embedded. How you do that is not intuitive: you have to go to preview then export, there is no export from the main interface. It looks as though it is exporting (converting) the file, not just printing it to pdf (using a 'virtual printer'), as the latter (more common) process usually loses any embedded hyperlinks.

[exporting embedded links: what I am getting at here is the difference between a visible link:

http://www.giveawayoftheday.com

which some pdf printers will recognise as a link (not hard since it starts with http://)

and:

Giveaway of the Day

which is also a link, but embedded so most pdf printers don't see it as one].

Comment by Jon Smith — December 18th, 2014 at 4:54 am Did you find this comment useful? yes | no (+2) Reply
Thank you for you comments!

Yes – there are many other similar products you can find on the net, but there is no word processor with Modern UI. We found that tiles much more handy in regards of files and files groups management than regular Recent files list. We implemented much of the basic functions provided by Modern UI guidelines, but there is much more to come in the next update, like extended files information in the main menu and much more sophisticated content management and user-content interaction system.

As for spellchecking – we supply Russian and US English dictionaries by default as these are our product supported languages, but you can extend dictionaries as you want by placing dictionaries files into Dictionaries folder. You can download Hunspell dictionaries from http://www.openoffice.org and place them with the name of locale you want to add, for example: en-US.aff and en-US.dic

Comment by Algorithms In Motion Co. — December 18th, 2014 at 4:57 am Did you find this comment useful? yes | no (+11) Reply
Jarte is also free, It is built upon and expands Wordpad and recognizes ant Word or Wordpad document.

http://www.jarte.com/

Comment by Bobimo — December 18th, 2014 at 5:04 am Did you find this comment useful? yes | no (+6) Reply
Sorry but BASIC describes this just so well.
I am sure if you delve you will find a myriad of features in this offering but I found it takes as long as WORD to load and that defeats the object for me. Yep its portable but surely that is only any use if the PC that you might find yourself in front of doesn't have a word processor (Unlikely).
I cant see the time it would take to learn this very un-intuitive piece of software is actually worth the effort
I used to own a ZX80 and this reminded me of the graphics & speed.
Removed (As I dont think it actually installs) along with the unwanted software that it comes bundled with.

Comment by Terry — December 18th, 2014 at 5:23 am Did you find this comment useful? yes | no (0) Reply
Sadly, the killer for me is the appalling 'Modern ui' interface. It really is nasty.

Comment by Dave Howes — December 18th, 2014 at 5:25 am Did you find this comment useful? yes | no (0) Reply
Featured titles:
Simple Blanks
Simple Blanks is WYSIWYG text processor and reporting tool with data shaping, master-detail reports, mail merge and so much more. Create standard and ad hoc reports without any technical expertise. All you need is your trusty Word experience and a data source. Unlike complex and hard-to-learn classic reporting tools, Simple Blanks is oriented on a wider range of tasks, allowing users to use it without any particular qualifications.
Simple Graphs
Simple Graphs is interactive data visualization tool optimized for real-time data consumption and analysis. Smart, powerful and elegantly easy-to-use, Simple Graphs will bring your data analysis experience to another level of accessibility. Enrich your business intelligence with stunning interactive dashboards and performance indicators that are straight.