X-Mirage is the most professional AirPlay server which allows you to wirelessly stream contents or mirror iPhone, iPad and iPod screen to any Windows PC.
Price $16
.
Today It's FREE
NOTE: X-Mirage (PC) 1.01.5 is available as a
Giveaway of the day
! You can only download and install it within December 5, 2014.
Never miss a cool giveaway, Subscribe us by email now
X-Mirage turns your Windows PC into an AirPlay receiver for mirroring whatever on your iPhone, iPad or iPod screen – apps, games, photos, videos, presentations, websites and more to the bigger screen. X-Mirage receives AirPlay contents in full HD 1080p high-definition. Make demo videos, app design or showcasing, record lessons for students, record iOS games, iOS app tutorials. Whatever you do on your iOS devices can be recorded, then exported.
Vacation photos, treasured videos, beautiful music, AirPlay-enabled app, with X-Mirage, you can stream all these to your bigger screen and you just need to sit back on the couch and enjoy the best visual and auditory effect from iOS devices on your PC.
DOWNLOAD FREE and Get Free licensed now!
►
Download X-Mirage (PC) 1.01.5 now
Unzip the package of "X-Mirage (PC) 1.01.5" you've downloaded, and carefully read the instructions for get Serialnumber or License included.
PLEASE NOTE: X-Mirage (PC) 1.01.5 is only available to FREE download and install within December 5, 2014.
Did You miss this? Don't worry.
You may find the best discount (up to 90%) from Coupons.ivoicesoft.com
. Click it then type to search what you want.
Never miss a cool giveaway, subscribe us by email now.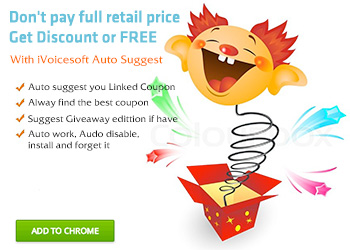 Comment:
Interesting GODT, I don't have much use for it but I installed it on my XP.
Took 5 minutes to get the code in my inbox.
I hope it will not run at boot.

Comment by Adif — December 5th, 2014 at 3:12 am Did you find this comment useful? yes | no (-15) Reply
Install the freeware StartUp Delayer if you are curious if it runs at boot. You can prevent it. Or delay it up to 23 hours, 59 minutes and 59 seconds.

Comment by krypteller — December 5th, 2014 at 3:35 am Did you find this comment useful? yes | no (+1)
Press WIN+R > type msconfig > look in "startup" > deactivate x-mirage if you find it there.

Comment by Fishbone — December 5th, 2014 at 5:26 am Did you find this comment useful? yes | no (+1)
Enter your Email to get free one-year code. not for me!

Comment by whan — December 5th, 2014 at 3:30 am Did you find this comment useful? yes | no (0) Reply
whan said:
"Enter your Email to get free one-year code. not for me!"
_________________________________________________

- Is this true that you only get 1 year?
Looking at their web site shows it is lifetime:
_________________________________________________

"Why Buy X-Mirage

If you purchase X-Mirage, you can:
- Use X-Mirage forever
- Enjoy all updates free of charge
- Get lifetime technical support free of charge."
_________________________________________________

However – it would be nice if the device would also
support "Miracast", "Ezcast" and DLNA so it would
work with Android and Windows 8.1 as well as Apple.

Comment by Mom's Basement — December 5th, 2014 at 4:57 am Did you find this comment useful? yes | no (0)
Installed in Win 7-64, even uninstalling the antivirus and firewall, the program does not work, the error shown is "Initialize bonijour server error".
Executed control o.s. with sfc / scannow, my system is undamaged.
It would be appropriate for your answer, at the moment uninstalled the program !.

Comment by Antikitira — December 5th, 2014 at 5:14 am Did you find this comment useful? yes | no (-1) Reply
Screenshots: