BoostSpeed is the simplest way to repair, clean up and speed up your PC.
Price $49.95
.
Today It's FREE
NOTE: BoostSpeed 6.5 is available as a
Giveaway of the day
! You can only download and install it within January 12, 2015.
Never miss a cool giveaway, Subscribe us by email now
BoostSpeed is the simplest way to repair, clean up and speed up your PC. With the 5-star rating from CNET, it is one of the most effective all-in-one PC solutions. BoostSpeed scans your computer to pinpoint the issues that may be responsible for the slowdown, and provides a safe and easy way to fix them along with a complete kit of powerful tools to enhance every aspect of your PC's performance.
At a click of a button it does all of the following (or only parts you want done): cleans out junk, fixes the registry, tweaks Windows and Internet settings, defragments the hard drive – all to get your PC running fast and smooth again.
Note: the program includes one year license
DOWNLOAD FREE and Get Free licensed now!
►
Download BoostSpeed 6.5 now
Unzip the package of "BoostSpeed 6.5" you've downloaded, and carefully read the instructions for get Serialnumber or License included.
PLEASE NOTE: BoostSpeed 6.5 is only available to FREE download and install within January 12, 2015.
Did You miss this? Don't worry.
You may find the best discount (up to 90%) from Coupons.ivoicesoft.com
. Click it then type to search what you want.
Never miss a cool giveaway, subscribe us by email now.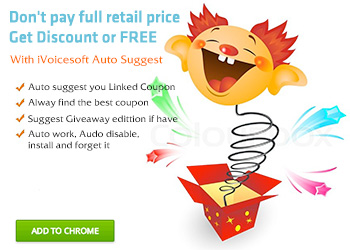 Comment:
pro: Auslogics BoostSpeed is the only program I have ever used that actually does boost the speed of your computer…easy and intuitive interfaces, automatic memory and disk management, easy and quick registry and internet optimizations…well worth the usual cost of the program.

con: why are they only giving away version 6.5? the current version (which I have) is 7.x…if you're gonna give away the program for a day, why not give away the newest version?

if you don't have it, download this and use it, and I promise, it will improve your computer's performance…just don't update the program unless you have the money to spend on the new version.

Comment by John Webb — January 12th, 2015 at 3:12 am Did you find this comment useful? yes | no (+15) Reply
This is an old version. 7.6 is sold now. I doubt that 6.5 can even be bought with $49.95. I have version 6.5 installed on Win7 SP1 and it works well.

Comment by Builder — January 12th, 2015 at 3:14 am Did you find this comment useful? yes | no (+12) Reply
Another all in one solution for your PC woes. I don't think there are any magic wands you can wave over your computer that will heal it and make it "run like new". That is a pipe dream. The only way to a faster compute is by hardware upgrades. software wise, you can limit your starup programs and programs that run in the back ground. That will help but not anything miraculous. Let's examine the claims of this program:

1) "Pinpoint the issues behind reduced performance". That's a bit vague and I'm not convinced it can deliver on that claim.
2) "Defrag your HDD, clean out junk and repair registry". There are plenty of programs both free and paid to perform these functions. In the old days degrag of the hard drive was critical. In today's computers of faster hard drives, faster buses, smarter OS's, I don't think that is an issue anymore. As for the registry… All I can say is proceed at your own risk.
3) "Speed up you PC and clean up your web browsers" Again a bit vague and most browsers will allow you to do the clean up yourself either manually or with extension and add on's.
4) "Help protect your privacy and recover deleted files" Again, this can be done with many other programs.
5) "Give you 15+ easy-to-use PC maintenance tools" Needs some more details. What tools?

Most experts will advise against a one button fix. Despite the five star ratings I would use this with caution. Here are some screen shots..

http://www.auslogics.com/en/software/boost-speed/popup/screenshots/

Here is the user manual to help you out…

http://www.auslogics.com/en/downloads/boost-speed/7/Auslogics-BoostSpeed-7-Users-Guide.pdf

I will stick with the programs I know and trust but I greatly appreciate the offer. Thank you GOTD team and Auslogics Software Pty Ltd.

Comment by dadams — January 12th, 2015 at 3:21 am Did you find this comment useful? yes | no (+14) Reply
Sadly I see many older people being convinced that changing their hardware is the only option when their system slows down, most of the time it is their operating system that is the culprit.

Much better to get someone to reinstall their operating system before wasting their money.
Even a one click system, much as I dislike them, is better than buying some powerful machine just to write a few e-mails and browse the web.

Comment by XP-Man — January 12th, 2015 at 4:08 am Did you find this comment useful? yes | no (+19)
Installed and registered without problems on a WIn 8.1.3 Pro 64 bit system.

The installer installs a version 6.5.6, the link to the corresponding homepage goes to version 7.0.

We had a version BoostSpeed 6.5.6 July 23, 2014. This seems to be the same. Here are the old reviews:
http://www.giveawayoftheday.com/boostspeed-6/

My old review is still valid. In a short test I made two screen shots today – just to add new information to my last test.

A quick check of my newly installed windows (one month ago) shows a terrible performance, all marked red. Needs immediate "repair". At least it has not a "health index" of 0,0. LOL

http://i.imgur.com/IOw2GZt.png

Immediatley after this test with severe issues, I am glad to push the button repair all – I always push a "fix all" button. Therefor the "fix all" button exists. Or not???

After fixing, I am happy. I have save 3 seconds. What a pity that they do not tell me, where they have save a second or the other…
http://i.imgur.com/PgKbzos.png

Wow! 78 barbecues more. I repeat from my last test:

"and it tells me in the same window : more barbecue with my friends per year and more hour of intense gaming per year !!! it should be funny, but it isn't. DEAR AUSLOGICS; PLEASE CANCEL SUCH NONSENSE, IT SPOILS YOUR SOFTWARE!"

From their info:
http://www.auslogics.com/en/downloads/boost-speed/6/PC-Optimization-Effect-Research.pdf

You may believe it, if you want. Or not.

Uninstalled via reboot – I don't feel treated as a serious customer with such funny software.

Comment by Karl — January 12th, 2015 at 3:33 am Did you find this comment useful? yes | no (+18) Reply
Have a look:

This is the built in cleaner from Microsoft Windows via the properties tab:
It is in German language, but you need to see the figures only.

http://i.imgur.com/MsLQGNt.png

Compare this with the "disk space" from the software of today…

http://i.imgur.com/IOw2GZt.png

Comment by Karl — January 12th, 2015 at 4:39 am Did you find this comment useful? yes | no (+3)
I guess the new new version was released not so long ago so they are afraid that giveaway of latest one will cause a lot of refunds for the users that have just bought it. It's just a commercial reality guys.

Comment by Andrew — January 12th, 2015 at 3:49 am Did you find this comment useful? yes | no (+6) Reply
Dadams & Karl (comments #3 & 4) gave wise and useful assessments.

Here's my summary:
Defragmentation is no longer necessary or useful on modern systems.
Automated registry cleaning can only bring about marginal improvements, easily outweighed by the associated risks.
Similarly, stopping (unnecessary) system operations will not bring about noticeable improvement but can leave your system lame.
Memory improvers don't work.
Cleaning junk won't speed up your computer or create lasting extra space, as junk will soon accumulate again.
Only deleting system update uninstallers and uninstalling unnecessary programs will create space.
Finally, speed can only be gained by stopping apps that unnecessarily start with the system and by replacing big, slow programs with slim, fast alternatives.

Conclusion: If you must use such a program, today's offer is a good choice by a reputable company. But you don't really need it, just perform the last two items in my above list.

Comment by tomcat — January 12th, 2015 at 4:03 am Did you find this comment useful? yes | no (+7) Reply
Regarding disk fragmentation both I and Microsoft disagree as explained in the following links:-
http://windows.microsoft.com/en-gb/windows/improve-performance-defragmenting-hard-disk#1TC=windows-7

http://windows.microsoft.com/en-GB/windows-8/improve-performance-optimizing-hard-drive

Comment by XP-Man — January 12th, 2015 at 4:37 am Did you find this comment useful? yes | no (+2)
I also agree with XP-Man . To keep the HDD in a healthier state it is an universal recommendetion to defrag HDD at least once in 3-4 weeks .

@tomcat I am reading this first time "Defragmentation is no longer necessary or useful on modern systems."
but I am not sure whether you're pointing towards the modern systems with SSD or not.

Comment by Jahid — January 12th, 2015 at 4:54 am Did you find this comment useful? yes | no (+5)
I think 'BOOSTING' is a relative concept . It can be achieved either way. I never think of boosting my system at just 'One Click' rather always try to maintain the stability in another way. Instead of using the whole suite or a program having stamp of 'booster' I always go for the specific program which I think can make an impact. I have used Auslogics Disk Defrag Free as per a recommendetion but I have found Puran Defrag as more useful and reliable than the former. Puran Defrag has VSS Compatibility which doesn't affect the restore point during defrag operation and It also offers BOOT time Defragmentation options , So I don't have to use a program like PageDefrag seperately.

Both Puran Utilities and Toolwiz Care can be just an alternative suite with ample number of utility tools but you have to try and find out the specific and specialized programs for Registry Fixing or Defragmentation , Disk Cleaning , Privacy Cleaning, Startup Control , Uninstalling an apps etc which can help you to get the best performance out of your computer.

Thanks

Comment by Jahid — January 12th, 2015 at 4:20 am Did you find this comment useful? yes | no (+1) Reply
The pagefile/virtual memory is one of the biggest causes of disc fragmentation if the system has to use it the reason being it is normally set to being dynamic in its size.
If it is modified to be a set size and defragmented using PageDefrag or similar as mentioned above there will be a large reduction in disk fragmentation.

Comment by XP-Man — January 12th, 2015 at 5:25 am Did you find this comment useful? yes | no (+1)
A number of years ago this company had a similar and very useful program but the interface did not look like it was designed for a kindergarten.
In the past I have always looked forward to software designed by this company, today's offering is a severe disappointment, when making changes to my system I want easy to get at clear information, unlike today's offering.

For the first time ever I will not be recommending keeping one of this company's products.

Comment by XP-Man — January 12th, 2015 at 4:29 am Did you find this comment useful? yes | no (+2) Reply
Hey everyone,

I decided to try this Auslogics cleanup software because I tried their Defragger in the past and found it to be a competent program with an easy to use UI. It was missing a few advanced features paid programs contain but it was still a quality program.

I take computer cleanup fairly seriously and use CCleaner with the "advanced" add-ons to clean my system. I use Casper to back up my system so I wasn't too worried about any problems that couldn't be fixed. I DO like the restore option Auslogic uses and it's set to back up any changes it makes by default. That is good to have.

I was a little surprised to find Boostspeed did in fact pick up some items that CCleaner didn't. The majority of the registry items it cleaned up were remnants of programs I once installed but uninstalled. Cleanup worked fine and a backup was made.

To test out how well the backup and restore worked, I scanned for registry issues and deleted 300 file extensions that BoostSpeed consider invalid or empty/unused. Some of these extensions listed concerned me as they included popular extensions like .doc or .mp4. Still I deleted them, then tried to open some .doc files and things still worked properly. Once I restored the deleted files and rescanned, I had exactly 300 file extensions listed.

I was also interested in how Boostspeed claims to increase the speed of my broadband connection (other than removing junk files) so I scanned this area. For my network connection, it wants to adjust the size of my ARP cache and my ACK frequency, among other things. It also wants to adjust my data buffer size. It does not state specifically from the from and to values. In MSIE it wants to adjust the maximum connections per server and in Firefox it wants to disable IPV6. A slightly controversial change it wants to make is to keep the system from reducing the memory allocated to Firefox when it is minimized. Since I do browse frequently and have lots of RAM it's probably a good decision but does Boostspeed make this suggestion when people have limited amounts of RAM in their system? I will probably test these changes but not have enough time to report the difference.

Boostspeed reminds me of a modern day version of Norton's Utilities. Some features are more useful than others, but for the types who simply want to "set it and forget it" there is a one button cleaning utility that takes care of everything. Another option is to schedule it to scan automatically (not recommended in case you happen to be doing something important or shutting down the computer while it's working).

Frankly, I find Boostspeed to be a well designed, and useful supplement to popular cleaners that you may already use. The default settings are set in a way that minimizes risk of loss of data and expert options are available. If you don't use any system cleaners at all, this may be a good choice. I don't work for or have Auslogics in any manner, but I would like to visit Australia one day. :)

Comment by Derek — January 12th, 2015 at 5:18 am Did you find this comment useful? yes | no (+4) Reply
Only version 5.5 is worth the money. Since version 6.x Auslogics produces program for children looks like and removed several tools. Wrong way, Auslogics!

Comment by ornot — January 12th, 2015 at 5:31 am Did you find this comment useful? yes | no (+2) Reply
DiskDefrag Pro
Get your drives optimized for top speed and maximum efficiency with this powerful program's smart algorithms and boot-time defrag technology.Disk Defrag Pro lets you defrag files that are inaccessible during system operation, as well as optimize file placement on your hard drive to ensure faster access and most efficient operation. The multiple scheduling options let you easily maintain consistently high HDD speed.
File Recovery
File Recovery can bring back the files you thought were lost for good. It works with hard drives, USB storage drives and memory cards,recovering all file types, even from lost partitions. No reason to panic when you have such a powerful tool in your arsenal.
Driver Updater
Update all drivers on your PC in one click to prevent device conflicts and ensure smooth hardware operation! Driver updater is a safe, fast and intuitive tool. Driver Updater will check your computer for potential driver problems, give you a report on outdated or missing drivers it detects, and let you quickly update them to the latest manufacturer-recommended versions.