Start Menu X is a replacement of the system menu for professionals.
Price $19.99
.
Today It's FREE
NOTE: Start Menu X Pro 5.30 is available as a
Giveaway of the day
! You can only download and install it within January 25, 2015.
Never miss a cool giveaway, Subscribe us by email now
Start Menu X is a replacement of the system menu for professionals. Power users know how inconvenient and time-consuming it is to launch programs from the system menu, so Start Menu X is the right solution!
Benefits of PRO version:
Single-click launch!
Assign a primary program to any folder and start it simply by clicking this folder.
Change the structure and add tabs.
Manage the Virtual Groups.
Sort files by name.
DOWNLOAD FREE and Get Free licensed now!
►
Download Start Menu X Pro 5.30 now
Unzip the package of "Start Menu X Pro 5.30" you've downloaded, and carefully read the instructions for get Serialnumber or License included.
PLEASE NOTE: Start Menu X Pro 5.30 is only available to FREE download and install within January 25, 2015.
Did You miss this? Don't worry.
You may find the best discount (up to 90%) from Coupons.ivoicesoft.com
. Click it then type to search what you want.
Never miss a cool giveaway, subscribe us by email now.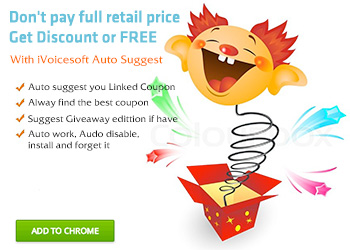 Comment:
Installed and registered without problems on a Win 8.1.3 Pro system. A clean installation

A (Chinese?) company without namne and address. We had had Start Menu X Pro 5.16 May 6, 2014. Here are the old reviews:
http://www.giveawayoftheday.com/start-menu-x-pro-5-16/#

The company is convinced, that they have an excellent product. They give a link to their competitors. That's rare!

"Start Menu X is the most functional of all programs replacing the Start Menu. Even the free version of the Start Menu X has more features than its paid competitors. These are not just words – see for yourself: http://en.wikipedia.org/wiki/List_of_Start_Menu_replacements_for_Windows_8 "

If you want the "old" startmenue back on Win 8 and above, this is a good solution. There is not much difference between the free and the paid version, it is mainly the 1-klick option : The PRO version allows you Tabs and One-Click-Launch.

This is done without problems, easy to handle. The company claims to have seven years of experience in alternate menu solutions. A quick search showed Start Menu X 4.53 in July 2010 and the previous "Vista Start Menu" in 2007. So they should have enough experience in this field. A good program, does what it claims.

Due to a new computer and a new setup, I don't have longer my former "classic start menu 4.x". I have to admit, that I even didn't miss it. I'll keep this to see, if it suits my needs.

Have a nice sunday!

Comment by Karl — January 25th, 2015 at 3:20 am Did you find this comment useful? yes | no (+52) Reply
Featured titles
Classic Start Menu
Install Classic Start Menu for Windows 7 with Aero interface Now. With this program you can get back the Classic Start Menu interface in Windows 7 and try the power of new technology too. With the program you can search programs by name, change skins, use timer delay for power buttons, enjoy unique single-click launch features and many more new cool specialties. The program is safe to install since it doesn't change system files. Try it out!