UnHackMe is the Best Rootkit and Malware Killer!
Price $19.95
.
Today It's FREE
NOTE: UnHackMe 7.6 is available as a
Giveaway of the day
! You can only download and install it within January 3, 2015.
Never miss a cool giveaway, Subscribe us by email now
The main difference between UnHackMe and other antirootkit software is its detection method. Precise double-checking for a Windows-based PC, which allows identifying and eliminating any types of malicious software. Instant tracking of malicious code in the system.
UnHackMe was initially created as anti-rootkit software, but currently it eliminates all types of malicious software: rootkits, Trojans, worms, viruses and so on. UnHackMe does not slow up your PC and it is compatible with any anti-virus programs.
UnHackMe includes:
Anti-Rootkit (Google Redirecting Fixer).
Anti-Malware, Anti-Trojan, Anti-Bot.
Anti-Adware, Anti-Spyware.
Please note: This is a 1-computer lifetime license for home use which includes free database updates but no free program updates. If you want business use, get UnHackMe with free lifetime upgrades.
DOWNLOAD FREE and Get Free licensed now!
►
Download UnHackMe 7.6 now
Unzip the package of "UnHackMe 7.6" you've downloaded, and carefully read the instructions for get Serialnumber or License included.
PLEASE NOTE: UnHackMe 7.6 is only available to FREE download and install within January 3, 2015.
Did You miss this? Don't worry.
You may find the best discount (up to 90%) from Coupons.ivoicesoft.com
. Click it then type to search what you want.
Never miss a cool giveaway, subscribe us by email now.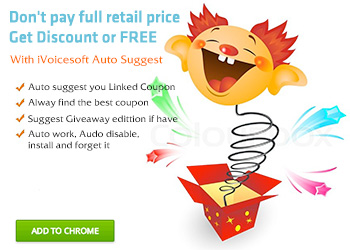 Comment:
Installed and registered with a "GOTD Happy New Year 2015″ key. A nice idea. The installation without problems an a Win 8.1.3 Pro 64 bit system.

A Russian company with address, an A-Team and a B-Team, but no team for Unhack-me?
http://greatis.com/contacts.html

We had had UnHackMe 7.11 on March 31, 2014. Here are the old reviews:
http://www.giveawayoftheday.com/unhackme-7-11/

Todays version is a "starter plan", a lifetime version with lifetime virus database updates.

After start a resizable window opens, you start a quick check, the virus database will be updated and after a first scan, it shows, what the program thinks could be problematic.

Funny, that the program lists its own program in the PUP list:
http://i.imgur.com/L18ZmxK.png

In my case it lists the Greenshot.exe as questionable startup entry – it will be added to the false positive list. No other treads found and the program finishes.

A good additional layer of security, I had had this in the past without problems. Just don't delete items, where you don't know what they are doing. It could be a false positive.

I have another security layer on my PC, don't need this. But if you don't have a working solution, you can install this. It worked for me in the past.

And by the way: I don't love programs, I love my family. And I don't hate programs. I hate taxes. Yesterdays software was an excellent example of emotions. A virus scanner cannot generate emotions, but a program, which gives you the feeling to CONTROL a computer. LOL and have a nice Sunday!

Comment by Karl — January 3rd, 2015 at 3:28 am Did you find this comment useful? yes | no (+30) Reply
You are one funny cookie, Karl! Keep up the great reviews here…

Comment by GumNutzs — January 3rd, 2015 at 3:45 am Did you find this comment useful? yes | no (0)
> Funny, that the program lists its own program in the PUP list:

No. You are wrong!
The program has a normal icon.
The PUP programs have a red icon and selected by a check mark.

You can install this mode a simple uninstaller.
Features:
1) Loads faster than Windows applet.
2) Display recent installed(updated) programs first.
3) Quick search.

Enjoy!

Comment by Dmitry Sokolov — January 3rd, 2015 at 4:04 am Did you find this comment useful? yes | no (0)
Of course you love programs. I see that love broadcasted in your reviews. As for taxes, they are necessary. Don't get me started on that. If you hate taxes, I recommend taking a course on in at a local university. You'll learn to accepted them for what they are, and also what to do about the ones that you don't find beneficial. You also say that a virus scanner cannot generate emotions. You are totally wrong there. When my anti-virus program tells me there is virus on my computer, an emotion of anger is generated. As for a program that can give me the feeling of control over my computer, I don't know of one that exist. I have to say you are wrong there as well. But, again, your reviews are great, and that is where you strive.

Comment by My Charm — January 3rd, 2015 at 4:40 am Did you find this comment useful? yes | no (-4)
Far…from yesterday War.. Sir'Jeremy Collake and WoW!!! Process Lasso 7.6(Ace).We're sure…that UnHackMe 7.6 is of also useful for someone else's and Us' TODAY. Many ThKs/GAOTD/Team/Greatis Software.

Comment by Studiopro — January 3rd, 2015 at 3:42 am Did you find this comment useful? yes | no (-23) Reply
I too have had this a few times over know, and couldn't agree more with Karl's post This is excellent software, and although I typically disable it from auto-starting, it can be handy from time to time. I do emphasize to any user to be aware and KNOW what you are looking at (or be willing to research) the "questionable" programs, keys, BHO's, and system files that this WILL inevitably flag. This is the best advise I can provide and all I have to offer. To be sure this is solid software and it is appreciated devs, thank you kindly~

If you get a compromised system, a good start on some tools that are effective are below. There are more, but this is just the start of stuff to try in addition to the GOTD feature. KNOW WHAT you are deleting with these as well. I did not post the more powerful tools:

Adaware cleaner http://www.bleepingcomputer.com/download/adwcleaner/
RogueKiller http://www.bleepingcomputer.com/download/windows/security/page/2/
Rkill http://www.bleepingcomputer.com/download/rkill/
TDSSKiller http://usa.kaspersky.com/downloads/TDSSKiller

Be well~

Comment by ivansword — January 3rd, 2015 at 4:04 am Did you find this comment useful? yes | no (0) Reply
"UnHackMe" is basically an anti-rootkit programs for removing rootkits which are sometime remain undetected by Anti-Malware and AV programs.
Though the developer here is claiming that currently it eliminates all types of malicious software: rootkits, Trojans, worms, viruses and so on. But according to various user opinions it is not effective at removing non-rootkit malware ( viruses, trojans, spyware, worms, adware etc.) as an anti-virus or anti-malware program.
Like Karl's experience about its False-Positive one user made a complaint in a forum that it had detected 'WinPatrol' as a rootkit.
Its false-positive is surely a major flaw.

Alongwith Malwarebytes Anti-Malware The following Freeware Rootkit-Remover Programs can be handy:

*Malwarebytes Anti-Rootkit

* Kaspersky TDSSKiller Portable

* IceSword

* McAfee Stinger ( Softpedia Pick )

Comment by Jahid — January 3rd, 2015 at 4:08 am Did you find this comment useful? yes | no (+3) Reply
I have used used UnhackMe in the past whenever I have detected something unusual in my PC, and yes it has helped me remove one tough rootkit which malwarebytes could partially remove(this was 2 years back).I would just grab this offer, although some of the modules require a bit knowledge before implementing them.

Here's a nice review : http://dottech.org/129973/windows-review-unhackme-program/

I can suggest a few as alternatives,stand alone third opinion scanners:

1) Hitman Free http://www.surfright.nl/en/hitmanpro/ => Portable,cloud scanning based upon the the very best security vendors. Offer a 30 day license for removal.

2)Malwarebytes Anti Rootkit Free https://www.malwarebytes.org/antirootkit/

3)Bitdefender anti Rootkit Free http://labs.bitdefender.com/projects/rootkit-remover/rootkit-remover/

4)Trend Micro Rootkit Buster http://downloadcenter.trendmicro.com/index.php?regs=NABU&clk=latest&clkval=355&lang_loc=1

5)There are other ones as well like GMER for removing rootkits specifically, but I would not recommend using them without an expert helping you through the diagnostic logs generated, etc.Note that not all the entried detected maybe malware.
You can specifically ask for assistance on your security vendors forum or websites like :http://malwaretips.com/

Thank you GAOTD

Comment by Mr All Rounder — January 3rd, 2015 at 4:12 am Did you find this comment useful? yes | no (+2) Reply
UnHackMe is a powerfull program, a bit too powerful, as the program can cause more problems if you not know 100% what you doing.

Freeware alternatives:

Malwarebytes Anti-malware: https://www.malwarebytes.org/
TDSSKiller: http://usa.kaspersky.com/downloads/TDSSKiller
AdwCleaner: https://toolslib.net/downloads/viewdownload/1-adwcleaner/

Comment by bindegal — January 3rd, 2015 at 4:31 am Did you find this comment useful? yes | no (+2) Reply
I haven't used UnHackMe for several years, around the time it broadened out into being a malware detection suite and with it (in my case) a pain in the bum for its false positives. Later versions may well signal a change for the better in that regard but what absolutely hasn't changed is the fact that this software should NOT be used by novice or even 'average' computer users: you're in the electronic equivalent of human medical science when you start contending with rootkits, so the last thing you should be doing is reaching for diagnostic tools whose functions you don't understand to identify conditions you may likely have never heard of en route to accepting prognoses the validity of which you're in no position to verify.

Not everyone can be a brain surgeon. If you're not, but think you're displaying the symptoms of a life threatening condition, then you'd go see your doctor and from there embark on various tests, scans and examinations. Same thing with suspected rootkit infections where the non-expert are concerned: don't start drilling into your skull when an aspirin could've cured what was only a passing headache — and don't, either, take an aspirin when something malignant needs radical attention. Instead: get free help from any of the excellent security forums out there — Malwarebytes' own or Bleeping Computer would be a sound choice, but there are plenty of others including different OS user groups — and then work step-by-step with your "consultant" to diagnose a problem and then remedy it.

'UnHackMe' often features as one of a raft of tools in the diagnostic methodology of forum "experts", so it has clearly earned its spurs. But neither it nor anything from any other source — including Kaspersky — is *ever* recommended, or used, as the sole go-to, and for good reason: there is no such thing as a 100% infallible identify-and-cure-all when it comes to stuff as malicious as rootkits. On which basis then, if you know what all the other diagnostic tools are and how to use them, and you understand each of the steps it is advisable to take — and in the correct order, too — when dealing with a sick computer, then today's giveaway is very much recommended as a hopefully useful addition to the contents of your doctor's bag. If, however, you can't tell a rootkit from a root vegetable, then you should do what thousands of other 'ordinary' computer users do in times of trouble: go get help.

Thanks GOTD and Greatis, and best wishes for a healthy, happy 2015 to all.

Comment by MikeR — January 3rd, 2015 at 4:34 am Did you find this comment useful? yes | no (+4) Reply
excellent and easy to run

Comment by Ivan — January 3rd, 2015 at 5:18 am Did you find this comment useful? yes | no (+1) Reply
Featured titles:
BootRacer
The main function of BootRacer is a total control over Windows boot time. BootRacer automatically traces the time spent on system startup, gives a warning if the computer slows down and shows degree of the speed degradation. It is a well-known fact that Windows slows down over time. BootRacer shows when performance begins to degrade and warns if urgent actions are required.
JustType
JustType will help you to be familiar with touch typing without any tutors. You'll type, not to learn to type as you do with the keyboard tutors programs. The program does not require pre-configuration of the actual keyboard layouts and languages and gets all the character data from the system at real time.
RegRun Security Suite Platinum
RegRun Security Suite Platinum is a complete computer security software. RegRun Platinum includes 24 system utilities for protecting a computer against Rootkits/Trojans/Adware/Spyware components, increase Windows boot-up process speed, help in computer management. RegRun Suite is compatible with all known antiviral software and and may be used to improve security.
Screen Beagle
Screen Beagle is a screen utilities pack that allows to see magnified screen, copy or save entire screen or any part of it, measure distance between any two points on screen in pixels, inches or millimeters and get and copy color of any pixel on the screen. All of these in one click.
Start Screen Unlimited
Unleash the full capabilities of your Windows 8 Start Screen! Start Screen Unlimited brings Start Screen customization to the next level. Add digital clock, Google search, power controls and numerous other gadgets directly to your start screen. With Start Screen Unlimited, your imagination is your only limit! Try Start Screen Unlimited, and you'll never want the old Start Screen back!