1-abc.net File Encrypter protects files of any file type with a personal password.
Price $19.99
.
Today It's FREE
NOTE: 1-abc.net File Encrypter 7 is available as a
Giveaway of the day
! You can only download and install it within February 7, 2015.
Never miss a cool giveaway, Subscribe us by email now
1-abc.net File Encrypter protects files of any file type with a personal password. 11 symmetrical and asymmetrical encryption methods are available (eg. AES), and all of them can be combined with each other. Use this program to secure your privacy!
Key features:
Easy-to-use interface;
Encrypt and decrypt files and folders on your hard drive, camera cards or USB stick;
11 encryption methods (Simple HEX Encoding, Ceasar-3, Ceasar-9, Simple XOR, Extended XOR, Advanced Encryption Standard (AES), Blowfish, Twofish, Serpent, MARS and Tiny Encryption Algorithm (TEA);
3 easy encrypting procedures (no password required);
8 secure encrypting procedures (password required)
Encrypt your data to a self-extracting *.exe file for users who do not have this program installed on their systems;
Log your encrypting and decrypting activity to the history file by option;
Start program with Windows automatically and encrypt data from Windows Explorer directly;
Encrypt and decrypt files from the right click menu of Windows Explorer;
Context menu for fast access to most used features;
Program can be installed on USB sticks, camera cards or nearly all other re-writable media;
Very low system resources required.
Please note that 5 best improvement ideas will be rewarded with a license for 1-abc.net Security Box. Use Idea Informer widget to submit your feedback and do not forget to fill in your name and e-mail – otherwise the Developer will not be able to contact you in case you are the one to win!
DOWNLOAD FREE and Get Free licensed now!
►
Download 1-abc.net File Encrypter 7 now
Unzip the package of "1-abc.net File Encrypter 7" you've downloaded, and carefully read the instructions for get Serialnumber or License included.
PLEASE NOTE: 1-abc.net File Encrypter 7 is only available to FREE download and install within February 7, 2015.
Did You miss this? Don't worry.
You may find the best discount (up to 90%) from Coupons.ivoicesoft.com
. Click it then type to search what you want.
Never miss a cool giveaway, subscribe us by email now.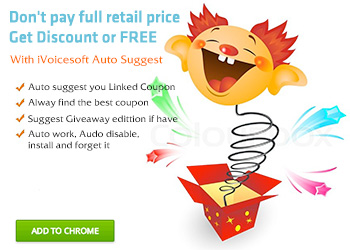 Comment:
To activate this software you are asked to visit this page…

http://1-abc.net/0018/ed/gtd_vg/m1.htm

There you will supply your name and email address. You will receive an email with a link you must click to confirm the email. Then you again supply an email address and you receive the key. Isn't that a long way to get some information that could have been just as easily been included in the readme file? I stopped after the first step as I lost interest. By the way, I received in Hotmail instantly, did not receive at all in Yahoo. Thank you for the offer but I will pass. Too many hoops o jump through.

Comment by gpc111 — February 7th, 2015 at 3:17 am Did you find this comment useful? yes | no (+7) Reply
Installed and NOT registered on a WIn 8.1.3 Pro 64 bit system.

I simply did not get the registration email. According to a previous software from this company, this is a double checked email. Maybe of interest for German readers.
A german court ruled last week, that the double opt email is considered as "unwanted email" = spam – therefor no longer allowed:
"Ein Urteil des Amtsgerichts Berlin Pankow/Weißensee (Az. 101 C 1005/14) hat jedoch die Bestätigungsmail als unerwünschte Werbung eingestuft. "
http://www.giveawayoftheday.com/1-abc-net-synchronizer-7-01/

A German company with name&address and all requested legal informations. The software is from mid 2014, digitally signed with COMODO.

A simple non resizable window opens, you add your file, choose the "encryption method" and encrypt this file to a self-decrypting .EXE or an encrypted file which can only be decrypted with the above program.

The different encryption methods are a pure gimmick, whether simple "Hex-encoder" or Cesar-3 or Cesar-9 is irrelevant. If you want to be an the "safe" side, choose AES. No further info to the encryption details. No check, whether the entered password is secure – only "minimum 6 characters" requested. Can be used with the context menu.

The test with a simple file ends with an error message in my case:
http://i.imgur.com/nJXASaw.png

The encrypted .EXE was built. Worked, but overwrites an existing file with the same name without warning.

A very simple encryption utility. Does what it claims. If you need a simple solution, this is a program, you can take.

Uninstalled via reboot. Don't need this – still no eMail…

Comment by Karl — February 7th, 2015 at 3:36 am Did you find this comment useful? yes | no (+17) Reply
Why not simply make a rar or zip file with a good password and definitely without a backdoor?

Comment by Lou — February 7th, 2015 at 3:37 am Did you find this comment useful? yes | no (+6) Reply
Files inside Locked or Hidden Folders are easily retrievable by some method, so encrypting any confidential file with a strong password is better options from the security point of view.

Kryptelite is one of the program I had used previously but the problem arose when I had lost password. I tried Kryptel Data Recovery but it can recover only the files encrypted with enterprise edition and encrypted with Kryptelite or Kryptel Standard, are not recoverable.

But I prefer FREE SafeHouse Explorer (Once Mr. Giovanni had suggested this program, thanks to him ) – It creates a private storage areas on local hard drive or external media to hold confidential files. It can optionally be run as a stand-alone executable file without needing to be installed, meaning that it can be run directly from USB memory devices or even from the Internet. But it also doesn't offer any lost password retieval option.

Comment by Jahid — February 7th, 2015 at 3:48 am Did you find this comment useful? yes | no (+4) Reply
Having tried several encryption programs, including Truecrypt, I finally settled for 7-Zip, a program which can compress and encrypt to AES-256, simply and quickly.
Once encrypted, you can do anything you want with the files – all is simple, except opening them without the password.
And yes, it's free!
Thanks to 1-abc.net for the offer, but sadly, File Encrypter 7 seems a little too involved for me.
Thanks also to GAOTD.

Comment by David Bee — February 7th, 2015 at 4:50 am Did you find this comment useful? yes | no (+4) Reply
Featured titles:
1-abc.net Security Box
There are many programs to protect your privacy and system security, but this one combines 6 fantastic security tools in one easy-to-use collection. Six fast modules to improve your data security will guide you step by step on your way to a safer system!
Special offer from within 1-abc.net File Encrypter 7.00! Discount price for GOTD users: $26.66 instead of $39.99 (regular price).