Driver Magician offers a professional solution for device drivers backup, restoration, update and removal in Windows operating system.
Price $29.95
.
Today It's FREE
NOTE: Driver Magician 4.5 is available as a
Giveaway of the day
! You can only download and install it within February 27, 2015.
Never miss a cool giveaway, Subscribe us by email now
Driver Magician offers a professional solution for device drivers backup, restoration, update and removal in Windows operating system. It identifies all the hardware in the system, extracts their associated drivers from the hard disk and backs them up to a location of your choice. Then when you format and reinstall/upgrade your operating system, you can restore all the "saved" drivers just as if you had the original driver diskettes in your hands. After one system reboot, your PC will be loaded and running with the required hardware drivers.
What's more, Driver Magician has a built in database of the latest drivers with the ability to go to the Internet to receive the driver updates. It saves lots of time to find the correct drivers and mature drivers will obviously increase the performance of hardware. If there are unknown devices in your PC, Driver Magician helps you detect them easily and quickly with its built in hardware identifier database.
Key features:
Back up device drivers of your computer in four modes;
Restore device drivers from backup in one mouse click;
Update device drivers of your PC to improve system performance and stability;
Uninstall device drivers;
Live Update device identifier database and driver update database;
Detect unknown devices;
Get detailed information of the hardware drivers;
Clone all drivers to an auto-setup package (.EXE), so you can restore drivers without installing Driver Magician.
DOWNLOAD FREE and Get Free licensed now!
►
Download Driver Magician 4.5 now
Unzip the package of "Driver Magician 4.5" you've downloaded, and carefully read the instructions for get Serialnumber or License included.
PLEASE NOTE: Driver Magician 4.5 is only available to FREE download and install within February 27, 2015.
Did You miss this? Don't worry.
You may find the best discount (up to 90%) from Coupons.ivoicesoft.com
. Click it then type to search what you want.
Never miss a cool giveaway, subscribe us by email now.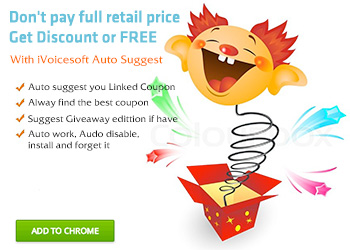 Comment:
Installed and registered without problems on a Win 8.1.3 Pro 64 bit system.

A (Chinese – digitally signed Zhiping Liu) company without name and address.

We had had a previous version Driver Magician 4.0 on January 11, 2014. Here are the old reviews:
http://www.giveawayoftheday.com/driver-magician-4-0/

"November 20th, 2014 device drivers software – Driver Magician Version 4.5 released
1. Support Windows 10
2. Some minor tweaks "

Upon start a resizable window opens. It claims to update the drivers database. It has not been updated since two weeks.

Update is fast. A scan of my system shows 5 drivers which should be updated according to the program. I have a newly installed system, was installed about two, three month ago. I know, that I have the latest drivers. But imagine a Drivers "Update" program, which does not detect a single driver to be updated. Impossible.

The good point is, that there are no RED!RED!RED! warnings, that I have completely obsolted drivers, which ruin my system – as other similar programs claim.

The bad thing is, that the program does not take the drivers from the official sites, but from so called "drivers sites":

In my case from the "new" drivers are found on
http://www.driversint.com/IntelDrivers/…
http://www.driversbulk.com/DriverDownload/…
and
http://www.driverreals.com/realtekdriversdownload/…

Instead from Intel or Realtek.

Of course I did not update the drivers and of course I tested this in a virtual environment.

This tool can be used to backup driver. The better was is to backup the system.

Well, you should know, what you do. Don't blame anybody else, if your system want work afterwards.

Uninstalled via reboot. I prefer to update my drivers from Intel directly … with the Intel update tool. Free of course. By the way, the Intel Driver Update utility (search!) does not detect an outdated driver.

Have a nice day!

Comment by Karl — February 27th, 2015 at 3:29 am Did you find this comment useful? yes | no (+34) Reply
Installed and registered on Windows 8.1 Pro DELL Inspiron 14 Laptop.
Software simply just would not start, restarted PC, no difference, tried different privileges, still will not start.

Comment by CatWalk — February 27th, 2015 at 3:31 am Did you find this comment useful? yes | no (+7) Reply
Downloaded and installed on Win 8.1/64-bit system without any errors. It identified five out of date drivers so I elected to update the network card driver.

As previously mentioned, the download is not from an "official" site. The install ran fine and the driver updated. However, even after a reboot, Driver Magician insists there is a new release of this driver. The only way to get this item off the list seems to be to hide it. I'm not sure that, given the critical nature of drivers, "hiding" the problem is the best idea.

I did do backups before I ran the update, but I'm not sure I would have the confidence to restore anything. System utilities like this need to run flawlessly to build confidence and the download source coupled with the fact that it did not detect the updated driver make me nervous.

Comment by Steve — February 27th, 2015 at 3:45 am Did you find this comment useful? yes | no (+4) Reply
It claims " It offers a professional solution for device drivers backup, restoration, update and removal in Windows operating system…. when you format and reinstall/upgrade your operating system, you can restore all the "saved" drivers…. "
But It failed to meet this promise pathetically when I had an oppertunity to test with Version 3.71 givenaway here in 2013. After reinstalling the opertating system I tried to restore drivers from its own backup created just before the reinstallation process. Even without reinstallation of os I tried to restore a particular driver after its uninstalltion but after reboot the restore didn't take effect . I checked it several times but everytime I had to use my Driver CD to fix it.
Even I tried Driver Reviver and Driver Genius Pro but they couldn't pass.

And about updating drivers , I saw a variations in the scanned results and recommended update versions of drivers.
I tried following commercial programs
1) Driver Magician
2) Driver Reviver
3) Driver Genius Pro
4) Drivermax
5) Driver Navigator

Driver Navigator impressed me with its feature to locate the downloaded driver in the explorer so that I can keep the file and try to install later manually and It was able to find the more recent version of some of the drivers compared to Drivermax Free.

The most annoying fact is that all have a tendency to recommend and update to a version which is (sometimes) incompatible with the system.

I didn't try Driver Fusion (http://treexy.com/products/driver-fusion ) and SlimDrivers(https://www.slimwareutilities.com/slimdrivers.php ) which are freeware recommended by Mr. Giovanni.

But I prefer to go https://downloadcenter.intel.com/ for Intel driver updates.

Comment by Jahid — February 27th, 2015 at 3:56 am Did you find this comment useful? yes | no (+14) Reply
Thanks to GoldSolution Software + GOTD.
Have been using it since many versions ago.

I ONLY use it for backing up and restoration of my PC's existing drivers.
I NEVER allow Driver Magician to "update" drivers to replace my PC's existing drivers.

A note of caution to users.
A pop up window appears whenever you start the software.

It says:
Drivers Update database hasn't been updated for more than 15 days, do you want to update it now?
[Yes] [No]

ALWAYS click on [No]
If you click [Yes] you have allowed you PC's drivers to be replaced (update)by suspicious and highly untrustworthy drivers from unknown places.

On the left hand side there is a panel.

Do not allow [LiveUpdate]. On the menu this is called Database Live Update.
Please note that there is no "database" of drivers.
This is completely automated once you make the mistake of clicking [Yes].
You cannot pause and stop it.
Although it says 'database", the software is actually updating your PC's drivers.
LiveUpdate automates the process of obtaining and installing the latest updates of Driver Magician. It locates and obtains files from the Internet site of GoldSolution Software, installs them, and then deletes the leftover files from your computer.

Do not allow [Update Drivers]
This is a 2-step process.
All available driver updates will show in the list box.
Select the device driver you want to upgrade and click 'Download' button, the latest driver updates will be downloaded and saved in the location of your choice.
Install the downloaded drivers and your PC will be loaded with the latest drivers.

One more thing.
After a certain period of time after the giveaway date, once you do a Live Update or Update Drivers, the software will revert to a Trial version and you will no longer be able to use the features unless you pay money. There must be a trigger somewhere that is activated once you do Live Update or Update Drivers.

Comment by ric — February 27th, 2015 at 4:12 am Did you find this comment useful? yes | no (+7) Reply
I will stick with my usual advice of "if it ain't broke, don't fix it". If you have not recently added hardware I don't see the point of updating drivers. Also, you are better off getting drivers only from the manufacturer of your hardware, not from whatever source this program may direct you to. As for the driver back up? If I were ever in a position where I was considering a driver restore I would opt to restore the entire hard drive image I keep. I appreciate the offer but I will pass.

Comment by gpc111 — February 27th, 2015 at 4:13 am Did you find this comment useful? yes | no (+5) Reply
I've used this software for some time and note the following.
1/ Only backs up your driver files (*.inf, *.cat, *.sys, etc) and not any related software which usually comes with such things as Video Cards.
2/ As @Karl has noted #1 above, the program may use non-genuine drivers.
3/ I only use the program to find any new drivers from the manufacturers and download/install separately myself.

Comment by Peter — February 27th, 2015 at 4:23 am Did you find this comment useful? yes | no (+2) Reply
You're wrong about #2

DriveMagician downloads genuine direvers, but the download site is not genuine website which is powored by DriveMagician. Check the certificate of the driver files.

Comment by Peter — February 27th, 2015 at 4:59 am Did you find this comment useful? yes | no (+1)
The comments above make me leary of even trying it. I repair computers at no cost for senior citizens and church friends. I have found Iobit's free Driver Booster to be invaluable for updating drivers — quick, easy to use, and, so far, has done nothing I didn't want it to do.

Comment by Ron — February 27th, 2015 at 5:45 am Did you find this comment useful? yes | no (0) Reply
Featured Titles:
Easy Macro Recorder
Easy Macro Recorder is a handy utility that makes your computers automatically do tasks for you. It records all operation of mouse and keystrokes and saves them as macros, then Easy Macro Recorder can play back the recorded macros to automate your work any number of times. It works on any Windows applications. Easy Macro Recorder is very easy to use, just three steps: record, save and playback. It doesn't require any programming experience.
PC Auto Shutdown
PC Auto Shutdown is a handy software that helps you automatically shutdown, power off, reboot, hibernate, suspend or log off computers at schedule time you specifies. It can shut down computers at schedule time when no user is logged in or when computers are in suspended power conservation mode. It gives you different ways to schedule the shutdown event for your needs.