LAN audio monitoring software monitors the sound which is played on remote computer in real time.
Price $79.95
.
Today It's FREE
NOTE: LAN Audio Monitor 1.0 is available as a
Giveaway of the day
! You can only download and install it within February 17, 2015.
Never miss a cool giveaway, Subscribe us by email now
LAN audio monitoring software monitors the sound which is played on remote computer in real time. You can set it to monitor the sound around the remote microphone. It is widely used when an alarm system was installed on a computer, but the user is currently absent. With the voice monitoring software, the sound can be transmitted to another computer which is used more often.
Share your speaker with other computers which are in the same network with yours.
DOWNLOAD FREE and Get Free licensed now!
►
Download LAN Audio Monitor 1.0 now
Get more:
WebCam Monitor Coupon, 15% Discount
Unzip the package of "LAN Audio Monitor 1.0" you've downloaded, and carefully read the instructions for get Serialnumber or License included.
PLEASE NOTE: LAN Audio Monitor 1.0 is only available to FREE download and install within February 17, 2015.
Did You miss this? Don't worry.
You may find the best discount (up to 90%) from Coupons.ivoicesoft.com
. Click it then type to search what you want.
Never miss a cool giveaway, subscribe us by email now.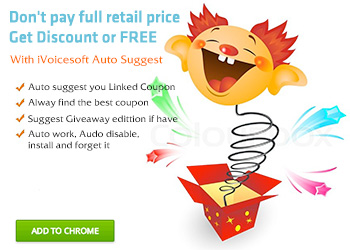 Comment:
Installed and registered without problems on a Win 8.1.3 Pro 64 bit system. A clean install – this means, at least the installer does not do something illegal.
A Chinese company without name and address, specializing in "spy" software. The download consist of two task : sender on the remote computer and a receiver on your home computer.
Well… Until now I thought, that this is a spy software to secretly listen to voices of a remote computer. But I learned, that the purpose of this program is:
"alarm to control station: In a company, some computers are distributed on different place. But alarm system software is placed on these computers. Generally there is no worker beside the computer. With LAN Audio Monitor, the alarm will be transmitted to a control station computer instantly."
But in the install disclaimer, you are informed:
"Under certain circumstances, the interception of communications without the actual or implied consent of the party may be unlawful. This software is designed for use when any required consents have been obtained, and is not intended for the surreptitious interception of communications."
The sender task can be hidden. For what? For legally hearing an alarm sound?
http://i.imgur.com/C4ueSMZ.png
If you ever want to know, what your wife is saying at a remote computer… No, you surely don't do such things. I am sure you only want to hear the sound of an alarm clock from the desk of your wife.
Maybe this is not illegal in your country. For example in North Korea if you are a member from the police.
Uninstalled via reboot. I have no remote alarm system to hear on my desktop.
Have a nice day without spying!
Comment by Karl — February 17th, 2015 at 3:22 am Did you find this comment useful? yes | no (+46) Reply
The application consists of two components . One is needed to be installed on transmitter system and the other on the reciever system.
A clean and simple to understand Interface. There is an option to choose 'Microphone' or 'Sound Card' from where you want to send the sound. And The connection can be protected by password too. It did what it is supposed to do. But frankly speaking, it is of no regular use and real importance to me.
Anyway Thumbsup for its performance and thanks to the developer and GOTD Team.
Comment by Jahid — February 17th, 2015 at 4:21 am Did you find this comment useful? yes | no (+10) Reply
Featured titles:
Spy Voice Recorder
Record all VoIP software call automatically and secretly. Skype, Yahoo Messenger, Viber, Facebook, Hangouts, ICQ, KaKaoTalk, ooVoo, GoogleTalk, etc. are included. Both sides' voice will be recorded and saved as MP3 file.
LAN Employee Monitor
It monitors all computer screens in your LAN by matrix screen. Also you can remote control other computers with your own keyboard and mouse just like you are using your own computer. Furthermore, you can use it to monitor keystroke typing, website visiting and manage remote files.
Computer Spy Monitor Keylogger
Computer Spy Monitor Keylogger is the best child computer monitoring software for parents to monitor all activities by recording keystroke and taking screen shot in set intervals. Furthermore, it can send all logs to your email box.
Spy Monitor Screen Recorder
Spy Monitor Screen Recorder allows to secretly capture screen activities on your computer into video file (.wmv or .avi files). All activities will be recorded clearly. It widely used for employee computer monitoring and child computer monitoring.
Cok Free MP3 Recorder
Cok Free MP3 Recorder is free program that used for recording audio from your microphone and your computer sound card. You can record sound from microphone or from sound card.