Undelete files and folders from FAT and NTFS disks with Recovery Mechanic!
Price $39.95
.
Today It's FREE
NOTE: Recovery Mechanic 5.1 is available as a
Giveaway of the day
! You can only download and install it within February 16, 2015.
Never miss a cool giveaway, Subscribe us by email now
Undelete files and folders from FAT and NTFS disks! Recovery Mechanic makes it possible to recover all types of files from healthy and damaged media such as hard drives, flash memory, SSD drives, memory cards, and digital cameras.
Documents, pictures, music, video, archives, email, and many more types of files can be rescued from disks that were badly damaged, reformatted, or that are plain inaccessible. Recovery Mechanic comes with full preview of recoverable files. You can preview documents with objects, email with attachments, play back audio and video files, and enter compressed archives before Recovery Mechanic attempts to recover them. Live preview works in all versions of Recovery Mechanic.
Please note: You can order any software by recoverymechanic.com with 50% discount!!!
Use this coupon code to get the 50% discount: giveawayoftheday50
DOWNLOAD FREE and Get Free licensed now!
►
Download Recovery Mechanic 5.1 now
Unzip the package of "Recovery Mechanic 5.1" you've downloaded, and carefully read the instructions for get Serialnumber or License included.
PLEASE NOTE: Recovery Mechanic 5.1 is only available to FREE download and install within February 16, 2015.
Did You miss this? Don't worry.
You may find the best discount (up to 90%) from Coupons.ivoicesoft.com
. Click it then type to search what you want.
Never miss a cool giveaway, subscribe us by email now.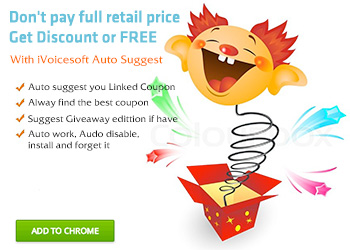 Comment:
Installed and registered without problems on a Windows system. A clean install. The copyright is from 2007 to 2012.
The .exe is from June 2012.

A company with a Seattle post box, no further info. (Read my last comment about this)

We had a previous NTFS Mechanic Standard 2.1.1 on August 20, 2014. Here are the old reviews:
http://www.giveawayoftheday.com/ntfs-mechanic-2-03/

Today's software includes the FAT file system. The claim "The Most Affordable Data Recovery Tool" is correct today. It' free.

The so called "news" are a joke, 4 entries from 2009 and one entry, the latest, from 2013.
http://recoverymechanic.com/news/index.php

No need for a new test from my side. Nothing changed in the last years…
Oops, of course I did a short test. The "Easy Undelete Tool" crashed:
http://i.imgur.com/aDcTNXl.png

!ATTENTION! – yesterday's EaseUs software is buggy. It loops endless on directories with more than 2500 sub directories.

Oops, I forgot: of course it is a Win 8.1.3 Pro 64 bit system, aka Win 8.1 Update 3, aka Win 8.1 November 2014 Update. Here is the rollout info about the third update for Win 8.1:
http://support.microsoft.com/kb/3000850 (19.11.2014 811.90 MB) and yes, it is a Win 8.1.3 Pro with Media Center. Windows 8.1 Update 1 was on April 8, 2014, the first 770.4 MB update, Update 2 was a quiet release on August 2014, should bring back the start menu, but didn't.

Thanks for reading…

Comment by Karl — February 16th, 2015 at 3:19 am Did you find this comment useful? yes | no (+48) Reply
Oops – What a great sense of humor! Love it! Thanks for your reviews, Karl.

Comment by Susan — February 16th, 2015 at 3:57 am Did you find this comment useful? yes | no (+4)
I forgot to mention:
Uninstalled via reboot. Faronics Deep Freeze is the program of my choice. Paid & excellent.
And a reply to a yesterday's question about my firewall.

I use Privatefirewall 7.0 – a firewall with a very good HIPS protection. For me simply the best. And yes, I have had nearly every firewall – long time the paid Outpost, i paid annual fees. Horrible!. On a newer Windows system – the build in firewall is perfect! No need for an additional firewall, but for a "handling" tool.

Comment by Karl — February 16th, 2015 at 4:04 am Did you find this comment useful? yes | no (+9)
I don't know much about this file recovery program . And I won't try today's Gotd App as a bunch of freeware file recovery programs successfully serving the purpose .

( 1 ) Restoration is a very little but efficient file recovery tool.

(2) Undelete 360 ( I mostly use this one )

(3) Recuva -Portable – A popular Program from well known developer Piriform.

WinUtilities Free Undelete – It has the explorer based GUI. A handy tool , in certain cases I find it more powerful than Undelete 360 and Recuva. Moreover It can help you to retrieve locked folder in case you lost the password.

(5) Puran File Recovery

(6) iCare Data Recovery

(7)PC INSPECTOR File Recovery

Just To prevent the deleted files to be overwritten, you should avoid any use of the disk where the file was deleted, until after the deleted file is recovered.
And Try to keep your hard disk in good shape by defragmenting it in periodically. This will increase the chanches of file recovery.

Thanks

Comment by Jahid — February 16th, 2015 at 3:42 am Did you find this comment useful? yes | no (+14) Reply
can this recover files from a corrupted or damaged external hard drive? sometimes the computer recognizes it but only through a partitioning programme. i hear a slight clicking noise when first connected so i presume drive is dying…. thanks

Comment by savaeden — February 16th, 2015 at 4:44 am Did you find this comment useful? yes | no (0) Reply
Connect to computer, run the software. If software recognizes your drive you can recover files.

Comment by support — February 16th, 2015 at 4:52 am Did you find this comment useful? yes | no (+3)
Featured titles:
HDD Mechanic
HDD Mechanic is a fully featured tool for recovering data and repairing damaged hard drives in Windows. HDD Mechanic recognizes all types of storage media such as hard drives, flash memory drives, SSD, memory cards, external drives, and digital cameras.
NTFS Mechanic
The innovative NTFS recovery tool can undelete files and folders, recover files from corrupted and re-formatted NTFS disks, unformat partitions and fix corrupted and inaccessible disks in just a few clicks. Full live preview for every recoverable file is available before the recovery in full and evaluation versions of NTFS Mechanic.
Mail Mechanic
Mail Mechanic handles all sorts of issues with individual email messages and email databases in Microsoft Outlook, Outlook Express, and Windows Vista Mail. Mail Mechanic can restore messages removed from the Deleted Items folder, recover deleted email databases, and salvage emails from damaged and inaccessible hard drives.