Chronograph is a simple utility that synchronizes your computer's internal clock to the atomic time.
Price $19.95
.
Today It's FREE
NOTE: Chronograph 6.85 is available as a
Giveaway of the day
! You can only download and install it within March 30, 2015.
Never miss a cool giveaway, Subscribe us by email now
Are you sure your computer clock always shows the current time? Because if it doesn't the consequences might be much worse than just a messed up personal schedule. Contrary to what you might think, showing time to a user is not the most important function of a computer clock. This clock is also used for many critical system processes like creating files and managing programs execution. That's why incorrect time can cause various problems from mere wrong time stamps in your e-mail to total inability to boot the system in the worst case scenario.
A typical computer clock is very often inaccurate, and you have to set the time frequently. This can be rather annoying. So, use Chronograph to keep your time synchronized to the atomic clock servers of the US National Institute of Standards and Technology. Chronograph does its job automatically with an accuracy of a fraction of a second. Keep your computer stable and reliable, download Chronograph now!
Get Hard Drive Inspector Professional with 50% discount!
DOWNLOAD FREE and Get Free licensed now!
►
Download Chronograph 6.85 now
Unzip the package of "Chronograph 6.85" you've downloaded, and carefully read the instructions for get Serialnumber or License included.
PLEASE NOTE: Chronograph 6.85 is only available to FREE download and install within March 30, 2015.
Did You miss this? Don't worry.
You may find the best discount (up to 90%) from Coupons.ivoicesoft.com
. Click it then type to search what you want.
Never miss a cool giveaway, subscribe us by email now.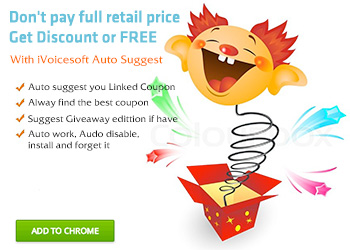 Comment:
Installed and registered without problems on a Win 8.1.3 Pro 64 bit system. A clean install with one installed service.

A Russian company from Irkutsk with address. Active company news.
We had had a previous version Chronograph 6.80 November 16, 2013. Here are the old reviews:
http://www.giveawayoftheday.com/chronograph-6-80/

Upon start a small, not resizable window opens, in the settings you can define the automatic mode, network access and the look of the tray clock.
The tray clock is not available for 64 bit systems:
http://i.imgur.com/5uyw7nN.png (screenshots made by Greenshot)

This is a small and easy to use routine for synchronizing your computer clock. Something, which is done by Windows automatically.
This software has a nice gimmick, it shows the difference between computer time and the selected timeserver. You can choose among ten timeservers…
http://i.imgur.com/BhEJzrY.png

The differences are due to the different running time to the servers:
http://i.imgur.com/TMSi3yC.png

Instead of displaying server time, it should display WHICH server time.

If you want to have this feature and have no problems with additional software, service, … you can take this.

I'll use the normal system features.
Uninstalled via reboot

Comment by Karl — March 30th, 2015 at 3:28 am Did you find this comment useful? yes | no (+6) Reply
WorldTime () is older but still works on systems at least through Windows 7 (including 64-bit), has many more useful features, and is always free.

Comment by ronn! — March 30th, 2015 at 3:53 am Did you find this comment useful? yes | no (0) Reply
Featured titles:
Hard Drive Inspector Professional
Hard Drive Inspector continually monitors your hard drive's health and warns you in case of danger. This reduces your chances to lose all you data due to hard drive crash. Download Hard Drive Inspector now, tomorrow may be too late for your hard drive.
Purchase an Unlimited personal license (with support and updates) with 50% discount.
Hard Drive Inspector for Notebooks
Hard Drive Inspector for Notebooks is a powerful, effective and easy-to-use program that monitors hard drive health. Notebooks edition has all the functionality of the Professional version, but also takes into account specific features of notebooks.