COVERT Pro is an innovative solution to ensure total privacy while working at the computer.
Price $49.00
.
Today It's FREE
NOTE: COVERT Pro 3.0.9 is available as a
Giveaway of the day
! You can only download and install it within March 18, 2015.
Never miss a cool giveaway, Subscribe us by email now
COVERT Pro – an innovative solution to ensure total privacy while working at the computer. It protects against spyware. When working in secure platform, all user's actions in all applications (browsers, email clients, office software, messengers, etc.) are safely hidden. Capturing data from keyboard input and monitor screen is blocked. Using special features of COVERT Pro (Network monitor, Driver monitor, System processes, System services) allows you to detect and remove all hidden applications.
To protect against spyware, COVERT Pro uses the masking method. It is the most reliable method against spyware — masking action of user. It means creation of secure platform, inside which user can run any applications, while remaining invisible to the spies.
Search for spyware on the hard drive is ineffective if it's not in the malware databases. Analyze the code or behavior is also pointless — it is not known who and for what purpose carries specific to spyware actions. Intercept keyboard input and screen captures can perform legitimate software and it is not prohibited actions.
COVERT Pro is compatible with other antivirus programs and enhances the protection of your PC.
Please note that the winner with the best improvement idea will be rewarded with a full-functioning life-time license for COVERT Pro USB. Please use IdeaInformer widget to submit your ideas.
DOWNLOAD FREE and Get Free licensed now!
►
Download COVERT Pro 3.0.9 now
Unzip the package of "COVERT Pro 3.0.9" you've downloaded, and carefully read the instructions for get Serialnumber or License included.
PLEASE NOTE: COVERT Pro 3.0.9 is only available to FREE download and install within March 18, 2015.
Did You miss this? Don't worry.
You may find the best discount (up to 90%) from Coupons.ivoicesoft.com
. Click it then type to search what you want.
Never miss a cool giveaway, subscribe us by email now.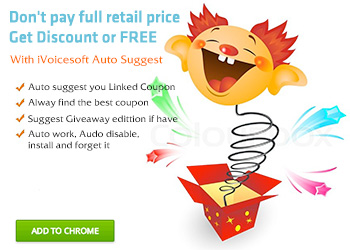 Comment:
1. Run the program file Protection.exe, located in the folder COVERT Pro AE
2. For hiding your actions from spyware and monitoring tools, log into secure platform. To do this, in the main window, click on the «Login to the secure platform» (button with COVERT logo).
3. Launch any program inside the secure platform you can in two ways:

a. Press the «Starting programs» button. In the opened Windows Explorer window locate the application and run it.

b. You can assign frequently used applications for quick launch buttons. To do this, click on the «Settings» or any numeric button in the upper left corner of the main interface. The settings window opens in which you need to specify program path under each button.

4. For strengthening your protection, you can use special monitors to search and remove sophisticated spyware: "Driver monitor", "System processes" and "System services". Their functions are described in the Help, which can be accessed by pressing the «F1» button.

Examples of protection against spyware can be found on this page: https://covert-pro.com/examples-of-protection/
You can see video with the presentation of COVERT Pro on this page: https://covert-pro.com/video/presentation-of-the-program/

Comment by CovertPro — March 18th, 2015 at 3:07 am Did you find this comment useful? yes | no (+10) Reply
Featured titles:
COVERT Pro USB
COVERT Pro USB has the same functionality as the COVERT Pro, but installs on a flash drive and can protect user's work on any Windows PC. You can connect this USB flash drive to unlimited number of PCs.