PCSpeedUp runs a comprehensive checkup on your system and detects every issue that may be slowing it down.
Price $34.94
.
Today It's FREE
NOTE: TweakBit PCSpeedUp 1.6.8 is available as a
Giveaway of the day
! You can only download and install it within March 17, 2015.
Never miss a cool giveaway, Subscribe us by email now
PCSpeedUp runs a comprehensive checkup on your system and detects every issue that may be slowing it down. We have developed powerful scanners that zero in on registry errors, fragmentation, incorrect system or Internet settings and other speed thieves for a precise verdict.
PCSpeedUp defragments your hard drive, cleans up the registry, tweaks system and Internet settings, and speeds up system shutdown to make your PC visibly faster. We made this software to bring you real results, so that you can enjoy things happening at a faster pace. Guaranteed.
Please note: the program includes one year license
DOWNLOAD FREE and Get Free licensed now!
►
Download TweakBit PCSpeedUp 1.6.8 now
Unzip the package of "TweakBit PCSpeedUp 1.6.8" you've downloaded, and carefully read the instructions for get Serialnumber or License included.
PLEASE NOTE: TweakBit PCSpeedUp 1.6.8 is only available to FREE download and install within March 17, 2015.
Did You miss this? Don't worry.
You may find the best discount (up to 90%) from Coupons.ivoicesoft.com
. Click it then type to search what you want.
Never miss a cool giveaway, subscribe us by email now.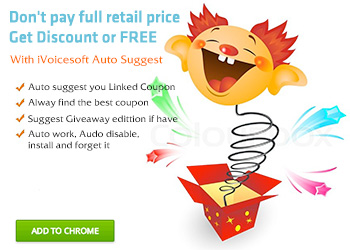 Comment:
Featured titles:
TweakBit PCSuite
PCSuite runs a complete checkup of your entire system locating junk files, speed-reducing issues and causes of any system or application errors or crashes. We designed the cleaning module in PCSuite to sweep out all types of PC junk, such as unneeded system and user temporary files, web browser cache, unused error logs, leftover Windows Update files, temporary Sun Java files, unneeded Microsoft Office cache and a lot more.
TweakBit PCCleaner
We made PCCleaner to detect and remove all types of junk files that clutter your drives causing your computer to underperform. It clears web cache, unneeded application logs, temporary Java files and Microsoft Office cache, Windows and user temporary folders – all in one quick sweep.
TweakBit FixMyPC
We created FixMyPC to clean out invalid keys, repair broken shortcuts and defragment the registry to make it more compact and organized. A healthier registry consumes less memory and allows applications to access keys in less time, which helps restore error-free performance. ActiveX is used in browser add-ons and for allowing one program to use another program's functionality on your PC.
TweakBit Driver Updater
Driver Updater will scan your computer for outdated or missing drivers and provide you with an easy way to download and install the latest driver versions, which effectively resolves driver-related system errors and device malfunctions. With access to a comprehensive database of over 200,000 drivers, you can be sure you will always have the latest updates and enjoy uninterrupted device operation.