Block custom applications and Windows services from running on your system, remove tools, and gather detailed information about each program with Abylon App-Blocker.
Price $22.62
.
Today It's FREE
NOTE: Abylon App-Blocker 2014 PRV is available as a
Giveaway of the day
! You can only download and install it within April 24, 2015.
Never miss a cool giveaway, Subscribe us by email now
Abylon APP-BLOCKER removes startup entries in the Start menu or Run, RunOnce, RunOnceEx entries in the Registry. It can prevent running processes permanently, stop or remove services.
The program includes a lot of information for each entry. An integrated link can be found on the Internet for further information.
DOWNLOAD FREE and Get Free licensed now!
►
Download Abylon App-Blocker 2014 PRV now
Unzip the package of "Abylon App-Blocker 2014 PRV" you've downloaded, and carefully read the instructions for get Serialnumber or License included.
PLEASE NOTE: Abylon App-Blocker 2014 PRV is only available to FREE download and install within April 24, 2015.
Did You miss this? Don't worry.
You may find the best discount (up to 90%) from Coupons.ivoicesoft.com
. Click it then type to search what you want.
Never miss a cool giveaway, subscribe us by email now.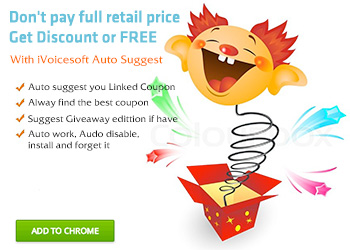 Comment:
Installed and registered without problems on a WIn 8.1.3 Pro 64 bit system. Many registry changes.

A small German company with all required legal information.
We had a previous version Abylon APP-BLOCKER 2013.2 on August 6, 2013. Here are the old reviews:
http://www.giveawayoftheday.com/abylon-app-blocker-2013-2/

From the description it is more than a "startup manager", from the installation directory it is crowded with many files.

Upon start a resizable window opens, fancy in colors. I do not find an option to switch the language to English. So my screenshots will be in German.
http://i.imgur.com/NM16Alg.png

Hmmm…. Even if I run this software as Admin, it does not recognize a single task, or a single startup.
http://i.imgur.com/OBeYaMi.png

The only "working" part are the system services.
http://i.imgur.com/Zd6vCan.png

Does not work in my case. Uninstalled via reboot. There are easier ways to control startups.

—————–
To answer a question. I keep some programs, not many. What shall I do with hundreds of installed programs, which I never use? I only keep programs installed, which I really use on a regular base – except one of the undeleters, never used up to now.
And I have a collection of portable tools. Liberkey (recommended – a french product), portableapps (the original) or Lupo Pensuite ( a newcomer). The most used portable applications are loaded into a RAM drive, where they are immediately at hand, when needed.

Comment by Karl — April 24th, 2015 at 3:28 am Did you find this comment useful? yes | no (+7) Reply
If you unknowingly permanently stop a service which is critical to your PC running, then maybe on your next computer boot up, you may see a permanent hour glass and the computer cannot do anything beyond that. It hangs forever.
How do I know this?
From personal experience while fooling around with Windows services.
I had to reinstall my whole OS and start all over again adding in the various software from scratch.
Today's Giveaway software is not to be blamed for that episode which happened long ago.
Be careful what you do with such software.

Comment by ric — April 24th, 2015 at 3:31 am Did you find this comment useful? yes | no (+1) Reply
Featured titles:
Abylon CRYPTMAIL
Abylon CRYPTMAIL is a user interface and an Outlook Add-In for email encrypting (incl. Attachments). Only its owner (HYBRID-System), or the correct password (SYMM-System) can open the email. The program locks the access for any other people.
Abylon SHREDDER
Working on computer and internet browsing leave numerous digital traces on the disk. The basic functions of the operating system don't delete these traces completely. In order to delete this data, Abylon SHREDDER overwrites the files, internet traces and saves the disk space up to 35 times.
Abylon CRYPT in the BOX
Abylon CRYPT in the BOX is an easy to use program, which helps to encrypt your important files automatically. You can copy the files from Windows Explorer to special CRYPT-Folder, add and edit them in the program surface. To access the backed up data you must enter the password only once and as long as the program window remains open, no re-entry of the password is needed.
Abylon LOGON-WALLPAPER-CHANGER
Abylon LOGON-WALLPAPER-CHANGER helps to customize the login screen background. Simply upload images into the program. Optimize and convert the graphics into required format. If you load multiple images, a different picture will be displayed every time you log in. In addition, a screen saver is activated in the login screen.
Abylon SELFCERT
This Tool easily creates self-signed test certificates (X.509 v3) for private use. You can use this certificate to encrypt your data.