Protect your computer from illegal access with Abylon Logon.
Price $23.12
.
Today It's FREE
NOTE: Abylon Logon 12.9 PRV is available as a
Giveaway of the day
! You can only download and install it within April 16, 2015.
Never miss a cool giveaway, Subscribe us by email now
Protect your computer from illegal access with Abylon Logon. All you have to do is to save your Windows login data to a smart card, a removable media (e. g. memory stick) or a CD. From now on you need only this physical key for the login authentication. After the work is done, just pull out the removable disk and your computer will turn off automatically. The program will easily protect your computer against snoopy visitors and data theft.
Key Features:
Windows login with a hardware key;
Increased Safety (passwords and key combination), comfort usage (no notes and typing long password required);
Supported hardware keys: USB stick, various smart cards (also RFID radio chip cards, X.509 certificate smart cards and tokens), CD/DVD;
Random password: Daily automatic Windows password change (optional).
DOWNLOAD FREE and Get Free licensed now!
►
Download Abylon Logon 12.9 PRV now
Unzip the package of "Abylon Logon 12.9 PRV" you've downloaded, and carefully read the instructions for get Serialnumber or License included.
PLEASE NOTE: Abylon Logon 12.9 PRV is only available to FREE download and install within April 16, 2015.
Did You miss this? Don't worry.
You may find the best discount (up to 90%) from Coupons.ivoicesoft.com
. Click it then type to search what you want.
Never miss a cool giveaway, subscribe us by email now.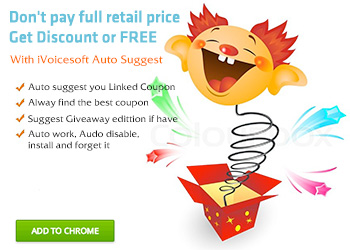 Comment:
Installed and registered without problems on a WIn 8.1.3 64 bit system.

A German company with all required legal information. This is a real "impressum":
http://www.abylonsoft.com/impressum.htm

We had a version 7 of abylon LOGON on March 16, 2010. Here are the very old reviews…
http://www.giveawayoftheday.com/abylon-logon/

Hmmm… After start a colorful user interface opens. I didn't find the way to change the interface language to English, so the screenshots will be in German.
http://i.imgur.com/XPPz91h.png

http://i.imgur.com/DQARJ5J.png

You define a login account, which will be managed by this software. The installation requires some time.

http://i.imgur.com/OS2rR0i.png

I entered an USB stick as login key. The software did not recognize my USB stick, it claimed to search a key card. My fault. You have to select the USB stick first.
http://i.imgur.com/MDnMjst.png

Now it recognizes the USB stick. You enter the login info and password.

http://i.imgur.com/xHQK9ts.png

This will be stored on the stick – in future you can use this USB stick as your login key. In my test, this works without problems. The user interface is like the homepage. More "homemade" – the program itself makes a professional impression. I think you should only use this, if your normal Windows Logon is not safe enough for you. When any number of unknown persons have at time time physical access to your computers. For the normal home user this is overpowered – and simply not needed.

Don't mess up your login procedure, if you have no real security concerns. For those in a high risk environment – recommended anyhow.

Uninstalled via reboot. I work in a safe environment.

—————————-
For those using CryptoPrevent (I wrote about) – there is a new update.

Comment by Karl — April 16th, 2015 at 3:39 am Did you find this comment useful? yes | no (+4) Reply
Featured titles:
Abylon CRYPTDRIVE
The encrypted drives can be opened with passwords, chip cards, USB sticks (flashdrives), CD or (PKCS) certificate. Get an access to them like to a normal drive in File Explorer. During every file operation the encryption works transparently on the background. If you lose your notebook, the closed drives will be invisible and protected like a safe.
Abylon KEYSAFE
Can you keep all passwords and access data in your mind? The abylon KEYSAFE is a simple password manager to manage all your secret data. You need only one password or alternatively a USB Stick, CD, chip card or certificate as "keys". The stored data can simply be pulled with a mouse into the appropriate fields of the Browsers or dialogue (Drag&Drop).
Abylon ENTERPRISE
The protection of the computer and stored files against undesirable access is very important. This comprehensive software package offers innovative and professional security and encryption modules for private and business use. Beside the password- or certificate-based encryption you can protect the computer against ineligible access or files removal.
Abylon BACKUP-TUBE
Abylon BACKUP TUBE creates exact copies of all files and directories. The backup or synchronization can be done automatically or manually. Intelligent routines speed up the backup process and reduce the amount of data. Only changed or new files are copied to the backup store.
Abylon WLAN-LIVE-SCANNER
WLAN-LIVE-SCANNER checks regular intervals of any available wireless network and lists them in a clear tree structure. Network name (SSID), connection status, network type, encryption algorithm and signal strength are displayed as additional information. With one click the connection to the selected network is established, despite the access is free, public or already used.