Almeza MultiSet will automatically install all the applications you require, either onto your original computer or onto a new one.
Price $99.95
.
Today It's FREE
NOTE: Almeza Multiset 8.7.8 is available as a
Giveaway of the day
! You can only download and install it within April 14, 2015.
Never miss a cool giveaway, Subscribe us by email now
Almeza MultiSet helps to install programs automatically and has a simple, convenient interface. It can take a lot of time for a user to install the necessary programs after the operating system installation. And at the same time a user needs to change discs in CD-ROM and DVD-ROM drives, enter registration data and make chores which takes a lot of time. The Almeza MultiSet program will install all the necessary programs automatically. And at that you will not have to write a single line of code!
Key Features:
essential administrator assistant;
fully-automatical;
intuitively understandable interface;
installation speed selection;
multilingual;
sound accompaniment of events;
automatical insertion of registration data;
time and power real economy.
Please note: the commercial usage of the program is allowed
DOWNLOAD FREE and Get Free licensed now!
►
Download Almeza Multiset 8.7.8 now
Unzip the package of "Almeza Multiset 8.7.8" you've downloaded, and carefully read the instructions for get Serialnumber or License included.
PLEASE NOTE: Almeza Multiset 8.7.8 is only available to FREE download and install within April 14, 2015.
Did You miss this? Don't worry.
You may find the best discount (up to 90%) from Coupons.ivoicesoft.com
. Click it then type to search what you want.
Never miss a cool giveaway, subscribe us by email now.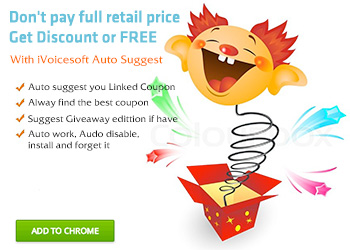 Comment:
Installed without problems on a Win 8.1.3 Pro 64 bit system. The installer only expands the files to a working directory. The software i preregistered.
http://i.imgur.com/Zdbxlzl.png

A tool, which can be usefull for system managers, distributing software or updates for unintended install.

A (Russian) company without name and address. We had a version Almeza Multiset 8.4.6 on December 26, 2012. Here are the old reviews:
http://www.giveawayoftheday.com/almeza-multiset-846/

They lowered the price from $495.95 to $99.95.

It seems, that this software does not support Win 8, it is not mentioned as supported system.
http://i.imgur.com/k6mYhD2.png

No uninstall, maybe I can use it later. For unattended Windows installations:
"Want to create a Windows installation disk or USB Flash Drive that will automatically install the OS Windows without asking questions about username, product key, time and locale settings? "

Comment by Karl — April 14th, 2015 at 3:42 am Did you find this comment useful? yes | no (+2) Reply
This program comes up regularly and each time causes confusion on what it actually does – automatic installing, program imaging or something else.
At its basic level, it is a keystroke / mouse recording software, allowing you to install an application to record the keystrokes/mouse movements so that they can be replayed on another machine automatically. The program 'watches' out for various dialog boxes to make the necessary decisions, etc.

This would work flawlessly if all software installed flawlessly. Unfortunately, in past experience, one slight change can cause a cascading sequence of events, for example, installing Office, it'll ask you if you want to sign up for Windows Updates. Another time, this can take a minute or so, in which time, it might ask you another question. This software can't 'read' the question, but knows its a dialog box, so tries to push "Yes" (as its pre-programmed to) but suddenly, everything is now out of sequence, with it now trying to open a new mail item (as the mouse is in a different position) clicking random buttons … just like my Mum uses her laptop.

This is like watching a 5 year old install an application. You still have to supervise it (nothing worse to coming back to a machine after an hour to see a "Are you sure?" dialog still on the screen, with the program saying "Successfully installed".) so you may as well do it properly yourself. Install the applications, image the machine, then sysprep it – image good enough for any PC every again.*

* Until a program / Windows needs updating … which is approx a week!

Comment by Chris Locke — April 14th, 2015 at 3:49 am Did you find this comment useful? yes | no (+2) Reply
Screenshots: