AOMEI Backupper Pro is an easy-to-use backup program for Windows.
Price $39.00
.
Today It's FREE
NOTE: AOMEI Backupper Pro 2.5 is available as a
Giveaway of the day
! You can only download and install it within April 28, 2015.
Never miss a cool giveaway, Subscribe us by email now
AOMEI Backupper Pro is an easy-to-use backup program for Windows. You can easily choose what files to backup and how to backup. With this software you can be sure that your data is reliably protected and can be restored any time.
Key features:
System, disk, partition, files and folders backup and restore;
Restore a system backup image to dissimilar hardware;
Support full, incremental, differential, and automatic backups;
System and disk clone for OS migration or upgrading HDD;
Backup using command line prompt or batch scripts;
Merge full backup and its associated incremental backups into a single image;
Backup disk space management helps delete old backups automatically;
Create WinPE or Linux boot recovery environment in case of system fails;
Compress, comment, split, encrypt, explore, and check backup images;
Support dynamic disk, MBR/GPT disk, and EFI/UEFI boot mode.
Special Offer: The giveaway version does not include lifetime free upgrades. But GOTD users have the opportunity to get "AOMEI Backupper Pro + Free Lifetime Upgrade" (originally priced at $49.00, now only $19.60). Click here to grab AOMEI Backupper limited-time 60% OFF Discount.
Technical Support: AOMEI Technology provides free technical support via email during and after the giveaway period. Please email to support@aomeitech.com if you have problems downloading, registering or using the software. We will reply you as soon as possible.
DOWNLOAD FREE and Get Free licensed now!
►
Download AOMEI Backupper Pro 2.5 now
Unzip the package of "AOMEI Backupper Pro 2.5" you've downloaded, and carefully read the instructions for get Serialnumber or License included.
PLEASE NOTE: AOMEI Backupper Pro 2.5 is only available to FREE download and install within April 28, 2015.
Did You miss this? Don't worry.
You may find the best discount (up to 90%) from Coupons.ivoicesoft.com
. Click it then type to search what you want.
Never miss a cool giveaway, subscribe us by email now.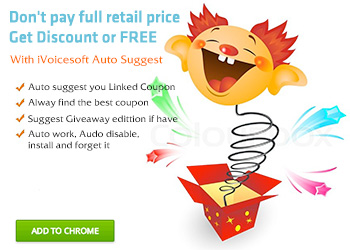 Comment:
Hello Everyone,
This is Owin from AOMEI Technology. First we sincerely appreciate your support, and apologize for the inconvenience we caused you. It is the support of you that make us keep growing year by year. We thank all of you from the bottom of our hearts.
Nearly one year later, we are glad to have the opportunity to giveaway AOMEI Backupper Pro again. In the past one year, many users provided precious feedbacks and constructive suggestions to us. It is because of them that we are able to release new versions one by one. Compared with the last giveaway (version 2.0 on May 16, 2014: http://www.giveawayoftheday.com/aomei-backupper-pro-2-0/), today's giveaway comes with some new and enhanced features and bug fixes. The most important three new features are restoring system to dissimilar hardware, system clone and PXE network boot. For more updates, please refer to the changelog: http://www.backup-utility.com/changelog.html. No matter you like or dislike AOMEI Backupper, you're all welcomed to provide any feedback, and let us know how we're doing. We will try our best to make it better.
By the way, AOMEI Technology has been working very hard to optimize your system and life. Our aim is to enable 81% of our users to use AOMEI products for free. Therefore, we continually release free products as the followings for personal and commercial use.
Free partition manager – AOMEI Partition Assistant Standard: http://www.disk-partition.com/free-partition-manager.html.
Free backup software – AOMEI Backupper Standard: http://www.backup-utility.com/free-backup-software.html.
Free cloud storages management app – MultCloud: https://www.multcloud.com.
Free system backup and recovery – AOMEI OneKey Recovery: http://www.backup-utility.com/onekey-recovery.html.
Free bootable USB/CD creator – AOMEI PE Builder: http://www.aomeitech.com/pe-builder.html.
Free file system conversion tool – AOMEI NTFS to FAT32 Converter: http://www.aomeitech.com/n2f/index.html.
Free network booting tool – AOMEI PXE Boot: http://www.aomeitech.com/pxe/pxe-boot-software.html.
If you have any problem with regards to our products above, please write here or email to support@aomeitech.com, we provide free customer service and free technical support.
Thanks again,
AOMEI Technology
Comment by AOMEI Technology — April 28th, 2015 at 3:14 am Did you find this comment useful? yes | no (+20) Reply
Installed and registered without problems on a Win 8.1.3 Pro 64 bit system. A clean install.
The big file size due to a Linux boot disk and the WinPe.
http://i.imgur.com/COuJUl4.png
A Chinese company with address. Digitally signed ChengDu AoMai Tech. Co. Ltd.
"AOMEI Technology is an up-and-coming provider of innovative hard disk partition management, reliable backup & restore solution, and easy cloud storages management for home and business users all over the world.""
We had a previous version AOMEI Backupper Pro 2.0 on May 16, 2014. Here are the old reviews:
http://www.giveawayoftheday.com/aomei-backupper-pro-2-0/
A good change log (as it always should be!) can be found here:
http://www.backup-utility.com/changelog.html
The offered "Pro" version has not many advantages to the free "Standard" version:
"
Command line backup
Merge backup images
Backup disk space management "
This is a well known backup tool.
A small non resizable splash window opens. Here you can register the program with a short key.
In the settings you define the compression level, the split of the backup (if you want to burn it to DVD), the "intelligent sector backup" (only backup used sectors) and the VSS.
You should create a bootable media. Either WinPE or Linux type:
http://i.imgur.com/jkSjHSN.png
(I only backup my system partition with a bootable media, never during the running system, even if this possible without problems with the volume shadow.)
After that you can backup folders, disks or partitions. The use is simple, self explaining.
A working and recommended software. Update it if you use it anyhow. I repeat the main point from my former comment – and I correct a statement:
"A difficult market, Nearly everybody has HIS backup solution, which he doesn't want to change. In my case I use Acronis since ages(*1).
Uninstalled for the reason, that I do not need different backup tools. If you don't have one: take this … or look for the free backup solutions from the HD manufacturer, e.g. the Acronis True Image WesternDigital(*2) Edition."
(*1)
changed in the meantime. I use the Paragon Hard Disk manager now.
(*2)
The free Acronis backup has a serious "flaw", no not a flaw, but something, which should force you to buy the real thing. It has no "used sectors" backup. If you have a 500 GB system disk and 100 GB system data, you can only backup the full 500 GB. If you want to backup your 100 GB system. Sorry this is not possible in the free version…
Comment by Karl — April 28th, 2015 at 3:33 am Did you find this comment useful? yes | no (+3) Reply
Using AOMEI BAckupper Pro 2.0.3 on Windows 8.1 x64 for almost a year now.
AOMEI Backupper Pro is a nice backup manager. It backups and restores partitions, clones entire disks. You can even mount a previously backupped partition as a virtual disk. Without having to think about regularly backing up your data you can easily schedule this for AOMEI Backupper Pro to do. The pro version comes with a disk space saver, so that old back ups are deleted if you want to.
Installation went well without any trouble. However, if you have to restore a GPT partition (very commonly used in Windows 8.x) the restore process of the program running under Windows itself fails. It goes into some sort of boot loop. You then have to make use of a previously created restore DVD or restore USB stick. This works OK, but it is sort of weird.
I am not entirely satisfied with the latest versions though. I am still using pro version 2.0.3. This works best for me. After updating to versions higher than that I noticed that booting my computer took much much longer, and occasionally there were backup errors. Scheduled backups were not completed or ended with an error. Reinstalled several times but this did not improve it. I had to revert to version 2.0.3 and now the program functions well. So the author of the program has to look into this I think. I could not read anything about this on the forum on the website of AOMEI. So it may just be only my computer that is misbehaving.
At this moment the program does what it is supposed to do and has saved my computer installation several times. I wouldn't want to think about reinstalling Windows and all the programs I installed after that. Let alone configuring all the settings… it would take days, if not weeks. Now it only takes 10 minutes to restore about 50 GB of data. The program was even capable of restoring a partition onto another disk after the original one died on me…
So all in all, nice program.
Comment by H. Wijk — April 28th, 2015 at 3:41 am Did you find this comment useful? yes | no (0) Reply
I´ve used this program for a long time. Since version 2.0 I noticed the (very) slow boot on some computers too. The slow boot seems to be caused by the "Backupper Scheduler service" to load. It is a good program, but the scheduler service should be looked at.
Comment by Lucky Luke — April 28th, 2015 at 3:57 am Did you find this comment useful? yes | no (0)
I've worked in IT for over twenty years, and its scary how a simple update or turning off the computer wrongly can break a Windows installation.
Its fine backing up documents and program data, but everyone (especially those using laptops which sometimes require more specific drivers than desktop PCs) should have an image of their operating system handy.
Windows creates 'restore points' but generally these aren't enough to recover your system in the event of considerable 'oh drat' moments.
AOMEI Backupper is excellent to use for advanced users and low-competence users alike. The user interface is intuitive (no weird looking icons you have to hover over to get tooltips that disappear after 3 nano seconds).
A backup can be done with Windows running (which is useful) and performs all the usual types of backup – full, differential and incremental. Backups can be stored locally or on a removable device or network device. This last feature works well, considering the plethora of network cards floating around. (It comes with a Linux and Windows boot disk … you can't restore a PC without a boot disk).
The Pro version comes with a couple of extra useful tools – clone the system partition, useful for transferring a laptop from normal HDD to SSD.
The Windows operating system appreciates being reinstalled every now and then. After a year or so of use, it can 'clog up' with programs installed everywhere, slowing down boot time, etc. After performing a clean install, simply image the system and use this as your 'base image' in the future. A restore can take approx 20 minutes.
Ideally, people should image their drive weekly or at least monthly. I've seen too many PCs fail to boot after a Windows update or installation of 'new drivers'. It can take hours working out the problem, reinstalling drivers, etc. So much easily to go back to a point in time when everything worked.
Comment by Chris Locke — April 28th, 2015 at 3:42 am Did you find this comment useful? yes | no (0) Reply
Featured titles:
AOMEI Partition Assistant Standard Edition
Safely partition your hard drive without data loss.
Freeware allows personal and commercial use;
Resize, move, merge, split, align, and copy partitions;
Migrate OS to SSD, convert MBR/GPT disk, and so on;
Windows 10, Windows 8.1/8, Windows 7, Vista, and XP support.
More…
MultCloud – Free App For Cloud Drives Management
Manage all your cloud storage services in one place.
Transfer files from one cloud drive to another;
Combine the free storage of multiple cloud drives and use together;
Share files with others, search files among cloud drives, preview files online;
Dropbox, Google Drive, Box.net, OneDrive, SugarSync etc. support.
More…