Scan2Encrypt uses any scanner or webcam to convert hard copies of documents and photos into secure and searchable PDF files.
Price $19.95
.
Today It's FREE
NOTE: Scan2Encrypt 2.21 is available as a
Giveaway of the day
! You can only download and install it within April 21, 2015.
Never miss a cool giveaway, Subscribe us by email now
Scan2Encrypt converts hard copies of documents and pictures into PDF files using scanner or webcam. The program provides filter, OCR, merge, 256-bit AES encryption and helps to upload files directly to Dropbox, send them through SMTP server or by email using Outlook.
This is extremely easy to use software and it takes only 4 clicks to scan, merge, convert, encrypt and upload to Dropbox or send by email. Final PDF document will be searchable and encrypted using the latest 256 AES encryption. PDF permission will allow you to keep control over your content even when uploaded to the Internet. It is must to have application for any scanner or webcam user who uses PDF Impress, Dropbox or send PDF by email.
DOWNLOAD FREE and Get Free licensed now!
►
Download Scan2Encrypt 2.21 now
Unzip the package of "Scan2Encrypt 2.21" you've downloaded, and carefully read the instructions for get Serialnumber or License included.
PLEASE NOTE: Scan2Encrypt 2.21 is only available to FREE download and install within April 21, 2015.
Did You miss this? Don't worry.
You may find the best discount (up to 90%) from Coupons.ivoicesoft.com
. Click it then type to search what you want.
Never miss a cool giveaway, subscribe us by email now.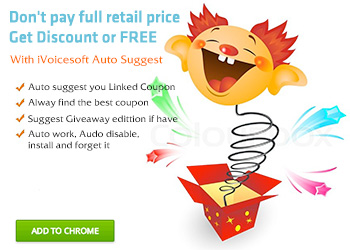 Comment:
Installed and registered on a WIn 8.1.3 Proi 64 bit system. Heavy impact on the registry.

An US "online software store" with address&phone:
"Founded in 2009, BinaryNow is a multi-vendor online software store that contains essential software tools for everyday use. "

Upon start a simple blue resizable interface opens. In the settings you define the scanner, scanner quality and PDF opftion : OCR.
The scanner type and the cammera does not give confidence.

http://i.imgur.com/VIixmuZ.png

This software uses as OCR the free open source tesseract.

I selected a picture made with a camera:
http://i.imgur.com/4CDIbzs.png
http://i.imgur.com/0FdASWM.jpg

The resulted PDF with OCR was unusable, but better than expected:

———————————————-
"mmm 100g pn 100|
'Brennwen 1566 kJ/372 kcal 19 °/.
Fen 7,0 g 10 "b
'dlvonz v
` 0885115ng Fettséuren 1.3 g 7 7.
Kohlenhydrate 58,7 g 23 %
davon:
~ Zucker GJ g 1 %
Ballaststoffe 10,0 g _
EiweiB 135 g 2_1 Z;
134.0 mg 44 "In
Zink 4'4 mg Roan
——————————————-

And now the result of a "real" OCR system. Abby Finereader
—————————-
Nährwerte
pro
100g
%RM* I
pro 100g]
Brennwert
Fett
davon:
– gesättigte Fettsäuren
Kohlenhydrate
davon:
– Zucker
Ballaststoffe
Eiweiß
Salz
1566 kJ/372 kcal
7,0 g
1,3 g
58,7 g
0,7 g
10,0 g
13,5 g
0,02 g
Vitamine und
Mineralstofte
Thiamin
——————————–
You see the difference? Tesseract is surely the best freeware – but it cannot compete in no way with a commercial product. On very simple and perfect scans it can produce sometimes good results.

Uninstalled via reboot.

Comment by Karl — April 21st, 2015 at 3:56 am Did you find this comment useful? yes | no (0) Reply
Featured titles:
PDF Impress
Add PDF manipulation to your Scan2Encrypt with this PDF Impress Tools. PDF Impress can easily create an Adobe PDF from any application that can print. Add watermark, stamp with hyperlink or digital signature with visual appearance with ease. Use PDF Tools to view, print, merge, split, extract, insert, remove and rotate PDF pages, digitally sign and encrypt whole document. Automate PDF conversion with multiple personal watch folders. Supports ISO 19005-1 PDF/A, and Terminal Services.
BinaryNow Office
Microsoft Office compatible suite of applications. This integrated solution for creating, editing and viewing documents, spreadsheets and presentations uses the same document format as Microsoft Office (2000/XP/2003). Even the latest Microsoft Office 2007/2010/2013 open XML formats (.DOCX, .XLSX, .PPTX) are fully supported in BinaryNow Office. This is the smallest and fastest alternative on the market today.
SlimPublisher
Instantly create business cards, letterheads, flyers, postcards, labels, artistic QR codes, barcodes and other artworks that make everlasting impression. SlimPublisher is professional, but affordable software that makes desktop publishing easy and intuitive. Ready-Made Matching templates are included.
Elegant Font Collections
Five different font collections which can be used for any occasion and serve range of different audiences. Font collections include Art Nouveau, Blackletter, Handwriting, Mediæval and Script Fonts. All fonts are available in dual formats (TrueType .ttf and OpenType PostScript .otf) and can be used on the Windows, Mac or Linux operating system.