One of the best programs for creating photos with a tilt-shift miniature effect.
Price $49.95
.
Today It's FREE
NOTE: Tilt Shift Generator 1.2 is available as a
Giveaway of the day
! You can only download and install it within April 6, 2015.
Never miss a cool giveaway, Subscribe us by email now
One of the best programs for creating photos with a tilt-shift miniature effect. Take a look at examples of photos, processed with this powerful tool. You can find a lot of applications that claim to apply similar effect to images, still most often the algorithm is improper, e.g. they use Gaussian blur instead of much more complex Lens (optical) blur which produces an effect identical to real bokeh; or they apply semi-transparent overlay, using wrong type of transition from focused to blurred areas, etc.
Tilt Shift Generator renders the original image pixel-by-pixel with the highest accuracy. This utility offers additional settings which help the output images to be better in comparison to photos taken by high-priced "tilt and shift"  lens to simulate the miniature effect. Tilt Shift Generator surpasses Photoshop tools and popular cameras' built in filters by result.
Please note: You can get a full version with support and upgrades. Don't miss a special offer from Artensoft – 50% off for all titles during giveaway period!
DOWNLOAD FREE and Get Free licensed now!
►
Download Tilt Shift Generator 1.2 now
Unzip the package of "Tilt Shift Generator 1.2" you've downloaded, and carefully read the instructions for get Serialnumber or License included.
PLEASE NOTE: Tilt Shift Generator 1.2 is only available to FREE download and install within April 6, 2015.
Did You miss this? Don't worry.
You may find the best discount (up to 90%) from Coupons.ivoicesoft.com
. Click it then type to search what you want.
Never miss a cool giveaway, subscribe us by email now.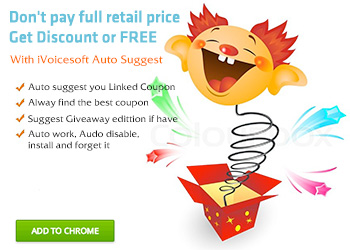 Comment:
Installed and registered without problems on a Win 8.1.3 Pro 64 bit system. A clean install.

A company without name and address:
Company Info

Artensoft is a software company founded in 2007. We create Windows based applications
We had a previous version of this tool on January 8, 2013. here are the old reviews:
http://www.giveawayoftheday.com/tilt-shift-generator/

As a short test, I took a picture of the "Kölner Dom" from Wikipedia. For tilt-shift, aerial views are the best.
http://upload.wikimedia.org/wikipedia/commons/6/6d/Koeln_RdFlug_1.JPG

Upon start a resizable interface opens with a demo picture. In the options you can only change the JPG quality, several languages available.
You add your picture, define the focus and the output size and that's it.

http://i.imgur.com/rFjcHc3.png

During the file processing, advertizing is shown. You can block it in the future…
http://i.imgur.com/S9q6WG0.png

You have to play around with focus size, defocus strength and the other sliders to achieve the result, you want to have. The preview option is a good help. Does what it claims, easy to use for those, who had never played with a tilt-shift options.
http://i.imgur.com/6QcK8W0.jpg

This is a simple one trick tool. In my opinion it was more fun, when it was new.
This tool now built in in most photo applications. If you want to have a separate tool, you can take this.

Uninstalled via reboot.

Comment by Karl — April 6th, 2015 at 3:30 am Did you find this comment useful? yes | no (+13) Reply
Featured titles:
Artensoft Photo Collage Maker
Artensoft Photo Collage Maker creates unique mosaic collages from photos in the automatic mode. Just take a look at the gallery made by Artensoft team, where each collage was effortlessly created with the help of the program. The program is the only product of this type in the world that automatically creates mosaic collages where elements of different sizes are so accurately inserted into the base image depending on the detail level selected by the user.
Artensoft Photo Mosaic Wizard
Unlike Artensoft Photo Collage Maker, this program helps to create classical photo mosaics where all elements are the same size and can be placed horizontally or vertically, offering the most suitable placement for the source image. Photo mosaics created with this product can be just as impressive as mosaic collages generated by Collage Maker.
Artensoft Photo Editor
Artensoft Photo Editor manages your digital photo workflow from start to finish. Import, adjust, edit, batch process, catalogue, navigate and view digital pictures from a single tool. The new photo editor makes your photo workflow plain, easy and straightforward. 50% discount only today!