Recover deleted files from healthy FAT and NTFS storage media with Undelete Wizard.
Price $39.95
.
Today It's FREE
NOTE: Undelete Wizard 5.1 is available as a
Giveaway of the day
! You can only download and install it within April 25, 2015.
Never miss a cool giveaway, Subscribe us by email now
Recover deleted files from healthy FAT and NTFS storage media with Undelete Wizard. Successfully recover documents, pictures, and other types of files as long as your disk is accessible. The software recovers certain Office documents of DOC, RTF, PDF formats, digital pictures, including RAW files from digital SLR cameras, music and video files.
Advanced recovery features support all kinds of storage media, such as computer hard disks, memory cards: SD, MMC or CompactFlash, USB flash drives, external disks, and many other types of devices. Undelete Wizard supports RAID arrays and Dynamic Disks on all versions of Windows, and undeletes files from FAT and NTFS formatted devices equally easily.
Please note: You can order any software by Wizardrecovery Company with 80% discount! Use this coupon code to get the 80% discount: GiveawayoftheDay80.
DOWNLOAD FREE and Get Free licensed now!
►
Download Undelete Wizard 5.1 now
Unzip the package of "Undelete Wizard 5.1" you've downloaded, and carefully read the instructions for get Serialnumber or License included.
PLEASE NOTE: Undelete Wizard 5.1 is only available to FREE download and install within April 25, 2015.
Did You miss this? Don't worry.
You may find the best discount (up to 90%) from Coupons.ivoicesoft.com
. Click it then type to search what you want.
Never miss a cool giveaway, subscribe us by email now.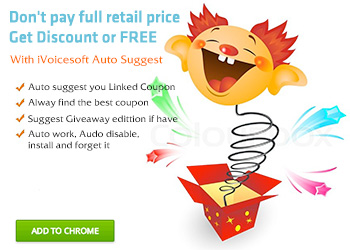 Comment:
Installed and registered without problems on a Win 8.1.3 Pro 64 bit system. A clean install.

We had the same version on July 11, 2014. Here are the old reviews:
http://www.giveawayoftheday.com/undelete-wizard/

I was curious to see, whether this is exact the same version, so no need for another test or installation.
It is:
http://i.imgur.com/AlYAXUl.png

Uninstalled via reboot
Have a nice weekend!

————–
To a comment from yesterday. "the nephew with registry cleaner". My registry (a rather new install – six month) with few installed programs has at this moment:
362.125 keys with 710370 values. If I delete 500 "obsolete" keys, it has still more than 360 thousand keys. It doesn't make any sense. A new program can easily add hundreds and thousands of new keys.

http://i.imgur.com/6TiLZNr.png

Comment by Karl — April 25th, 2015 at 3:21 am Did you find this comment useful? yes | no (+4) Reply
I just read another question from yesterday's software, concerning RAMdisk.

Install "ImDisk Toolkit 20150420″. IMHO the best and I have tested many of them. With 16 GB of RAM you can create without problems a RAMDisk with a 4 GB size (or more, depends on the memory needed by other memory intensive programs. Graphics…)
Create a folder, name it e.g. Ramdisk. Copy the portable apps you want to have into this folder. In the ImDisk settings load this folder during startup. Ready, here you are: now you have all needed portable apps in your memory. Don't put too many apps in the RAMDisk memory. Leave 50% free for temporary files and workspace. You can make shortcuts from the RAMDisk programs (driveletter R: for example) on your desktop.

Comment by Karl — April 25th, 2015 at 3:38 am Did you find this comment useful? yes | no (+1)
Haven't yet tried any paid program for file recovery. I never feel the requirement of that because some Nice and Effective FREEWARE Programs have been serving that purpose very efficiently.

(1) Undelete 360 ( My Favourite )

(2) Recuva -Portable – A popular Program from well known developer Piriform.

(3) WinUtilities Free Undelete – It has the explorer based GUI. A handy tool , in certain cases I find it more powerful than Undelete 360 and Recuva. Moreover It can help you to retrieve files inside locked folder in case you lost the password.

(4) Puran File Recovery – Very effective program , can recover files from formatted disk or even from Pen Drives, Memory Cards, Mobile Phones, CDs, DVDs etc. ( tested )

(5) iCare Data Recovery

(6)PC INSPECTOR File Recovery

(7) PhotoRec
another superb program for recovering files from formatted disks.
(8)7-Data Recovery

And for recovering files from scratched CD's or defective hard disks there is Roadkil's Unstoppable Copier ( http://www.roadkil.net/program.php?ProgramID=29 )

Some Tips to be followed (for new users ):

1) Firstly don't install this type of undelete programs to disk from which you want to recover files right now. Install it to usb thumbdrive if no other disk is available.

2) To prevent the deleted files to be overwritten, you should avoid any use of the disk where the file was deleted, until after the deleted file is recovered.
Though you may not be able to do it most of the time.

3) Try to keep your hard disk in good shape by periodically defragmenting it. This will increase the chanches of file recovery.

One more thing , When you wipe free space of your Disk , after which any deleted file will be in very healthy state. This will help you certainly. So, when you have nothing to recover or you have recovered the required files and there are so many overwritten files in the disk then you should wipe the free space to keep it fresh from overwritten / unrecoverable files. Just my personal opinion.

Comment by Jahid — April 25th, 2015 at 3:29 am Did you find this comment useful? yes | no (+1) Reply
Featured titles:
Disk Recovery Wizard
Disk Recovery Wizard is an effective application that can be used to recover deleted data from a healthy hard drive. In addition, it can be used to recover information from damaged, repartitioned and unreadable volumes. Supporting FAT, NTFS, ext2 and ext3 recovery, Disk Recovery Wizard can quickly extract information from existing volumes or thoroughly scan the entire hard drive in order to locate recoverable files by analyzing data blocks in raw mode.
NTFS Recovery Wizard
NTFS Recovery Wizard recovers files and folders from healthy and damaged volumes from all types of storage media as long as it was formatted with the NTFS file system. The tool employs a comprehensive data recovery algorithm that analyzes raw data read directly from the disk surface in order to successfully identify and recover files by their signature.
Office Recovery Wizard
Office Recovery Wizard undeletes Office documents erased from the Recycle Bin, and recovers files lost due to a system failure, disk crash or file system corruption. Powerful recovery algorithms support documents created with Microsoft Office, OpenOffice and StarOffice. Office Recovery Wizard recovers docx, xlsx, pptx, doc, xls, ppt, vsd, pub, rtf, sdw, odt, and other files and supports all revisions of FAT and NTFS.
Media Recovery Wizard
Recover lost or deleted pictures, music and videos from flash memory cards and hard disks completely automatically. Media Recovery Wizard fixes corrupted flash memory cards and recovers pictures, audio and video content from any media. The recovery tool supports all formats of memory cards, USB drives and hard disks, and can work with digital cameras and MP3 players that are connected to the computer via a USB cord. Media Recovery Wizard is compatible with all revisions of FAT and NTFS file systems.