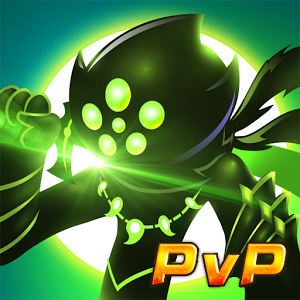 Rating: 4.3/5
Dreamsky Games: Just be Happy!
The most exciting action game of the year – League of Stickman! Best-in-class combat features! Crush the enemy! Beat them all! Win the ultimate challenge! This is the game you just cannot miss – League of Stickman!
Features:
[Best Action Game of the Year]
The most anticipated action game of 2016. You can experience the thrilling sensation with features like Double-Hits, Levitation and Deadly Combos! Come feel the heat and slay some monsters!
[Heroes Joining Forces]
More heroes unlocked and more heroes to team up with! Join forces with others to fight the Monster King BOSS! Choose your own team now and start fighting!
[Best Visual Experience]
High-quality graphics! Stunning special effects! League of Stickman present you the best gaming experience!
[Simple & Smooth Operation]
Freely switch between heroes and master their four different skills. You will have the best combat experience you ever had!
[World Leaderboards]
We offer world leaderboard, country leaderboard and friend leaderboard. Your team can compete with players around the world. Beat all others and be the Champion!
Follow Us on
Facebook: https://www.facebook.com/leagueofstickman
페이스북:https://www.facebook.com/leagueofstickmankorea
Instragam: leaguestickman
Twitter: https://twitter.com/LeagueStickman
VK: https://vk.com/leagueofstickman
Youtube: https://goo.gl/BRjxWA
SUPPORT:
Visit our Official site: http://www.leagueofstickman.com/
Download at League of Stickman: (Dreamsky)Warriors
This Free download may be available on this day only.